Art Auction 2018
Saturday, April 7, 6:00–9:30pm
Live Auction
Three experiences worthy of gathering your nearest and dearest to go in on together plus a spectacular piece of art! Get your tickets to the auction so you don't miss out.
A UNIQUE COUPLES SPA DAY!
APOTHEQUE LIFESTYLE SPA SERVICES
Value: $350
At Apotheque (pronounced apoth-e-KEY), they believe that every person is unique.
Spend a day at Apotheque Lifestyle Spa with someone special and discover therapeutic spa treatments that rely on ancient wisdom and Old World remedies. Located a few blocks from the ocean in the historic Bunker House building in downtown Oceanside, Apotheque Spa offers the winning couple a 60-minute spa treatment and a customized one-on-one yoga class. Then freshen up in the salon as one of their talented hair stylists blows out your hair before you retreat to the Bunker House Wine Lounge to indulge in a complimentary wine and appetizer tasting.
JAMES HUBBELL: STAINED GLASS SCULPTURE
Value: $3,800
"My world is the world of objects, of inner musings made real…I would like to see the reintroduction of beauty into the modern world with the understanding that it, like love, has the power to change things."—James Hubbell
Since the early 1960s James Hubbell has produced thousands of works of art including hand-crafted windows, doors, gates, and sculpture in almost every material, such as wood, stone, metal, and glass. His art has been embodied in homes, schools, gardens, nature centers, monasteries, museums, and peace parks around the world. Widely known for his organic style art and architecture, Hubbell aims to inspire those who wish to connect through beauty. This incredible auction lot is an opportunity for you to live with a one-of-a-kind Hubbell stained glass sculpture in your own home or dwelling. Widely recognized around the world for his unique spirit, Hubbell has been awarded numerous honors and life time achievement awards from such varied organizations as the National Endowment for the Arts, Rotary International, American Institute of Architects, the Eleanor Roosevelt Human Rights Award, and more.
KINSELLA LIBRARY TOUR AND TASTING
Value: $5,000
Tour the Kinsella Library in La Jolla guided by owner and collector Kevin Kinsella. You and eight of your friends will experience a unique private tour, enjoying the large collection of remarkable museum quality California plein air paintings housed in the former Copley family library. Enjoy a wine tasting held in Kinsella's private tasting room and 9000 bottle wine cellar, featuring world-class, award-winning wines from Kinsella Estates vineyards in Sonoma's Dry Creek Valley, crafted with expertise by legendary winemaker Thomas Rivers Brown. Like surprises? Glimpse memorabilia from the hit Broadway show, Jersey Boys, an authentic Chinese knowledge stone, a rare petrified Siberian mammoth tusk, sample hunks of lapis lazuli from the world's three mountain sources, and you just might get a musical surprise involving an authentic candy apple red Elton John piano. You and your guests will each leave with bottles of the just-released 2015 vintage cabernets, one bottle from each of the three vineyards.
The experience includes up to a total of 10 people. Date to be coordinated with host Kevin Kinsella. Museum staff will assist in scheduling your event.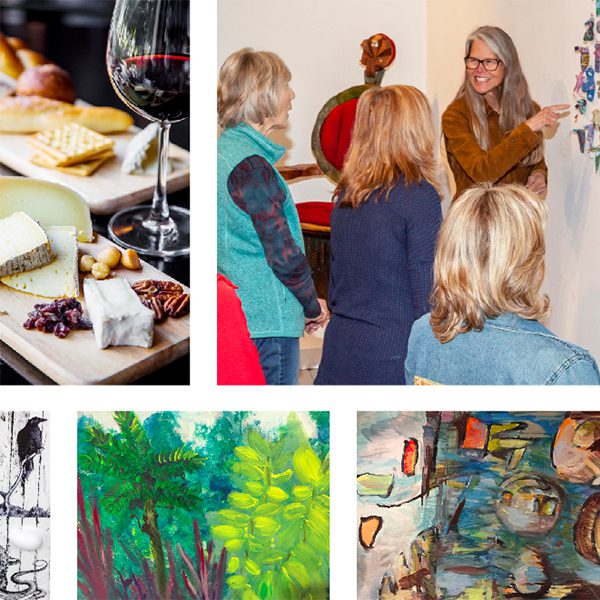 A TASTE OF ART: PRIVATE ART WORKSHOP
WITH ROBIN DOUGLAS
Value: $750
Wildly popular OMA teaching artist Robin Douglas is offering a custom-tailored Taste of Art workshop to a lucky group of up to ten people. Douglas has been offering art classes to curious creatives, hands-on workshops for the daring, and art history lectures for the eager-to-learn that are often sold out. This unique evening or afternoon of art starts with libations and hors d'oeuvres, followed by an exploration of an artistic style, movement, or artist of your choice—be it Monet, Van Gogh, Warhol, the Impressionists, or street art—the possibilities are unlimited as your group delves into hands-on art exploration. Feeling intimated to bring pen to paper, or brush to canvas? Fear not! Douglas is a gifted teacher with the ability instill confidence for both novice and experienced artists. Everyone creates their own work of art and leaves with both palette and palate fully satisfied.
The experience includes up to a total of 10 people. Date to be coordinated with Robin Douglas. Museum staff will assist in scheduling your event.
Click on the event below to purchase your tickets online now, or call (760) 435-3721 during open hours.
VIP Experience Includes:
Private preview reception from 6:00–7:00pm
Exclusive "buy it now" option during the preview reception
Crafty and vivid cocktails by Snake Oil Cocktail
Beer and wine
Elevated hors d'oeuvres by Coast Catering
Premium seating for live auction
Complimentary valet parking
Private VIP lounge
General Admission Includes
Entrance at 7:00pm
Beer and wine
Light hors d'oeuvres
Cash valet parking