legacy: 25 Years of art and community
september 10, 2022–january 29, 2023
Curated By Danielle Deery
Over the past 25 years OMA has presented over 288 diverse and engaging exhibitions that reflect their core interest to explore the stories of Southern California artists. The Journey and the Destination: Celebrating 25 Years is a survey of artwork selected from many of OMA's past exhibitions. Compelling pieces from landmark community building exhibits such as Worn with Pride (2000), Chouinard: A Living Legacy (2001), Artifacts: Allied Craftsmen of San Diego (2018), Lowbrow Art: Nine San Diego Pop Surrealists (2009), and Masterpieces of San Diego Painting: Fifty Works from Fifty Years, 1900-1950 (2008), will tell the story of how a volunteer based organization grew from its humble beginnings in 1997 to the cultural destination it is today. Featuring work by James Hubbell, Wendy Murayama, William Glen Crooks, Allison Renshaw, Italo Scanga and Charles Arnoldi, among others, this exhibition will create new narratives while remembering the seminal role OMA has played in the history of contemporary art in our region.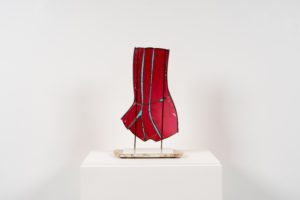 James Hubbell, Untitled, ND. Stained glass and stone stand, 8.5" x 14.5" x 23". Collection of Oceanside Museum of Art, Gift of George Schleder, 2011.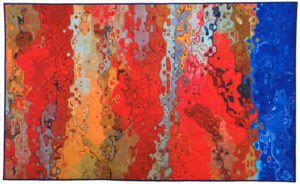 Dan Olfe, Terra Incognita, 2008. Polyester, cotton-polyester, cotton-batting, and thread, 40" x 65".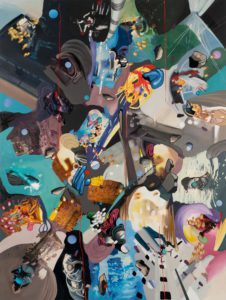 Allison Renshaw, Panic at the Disco, 2007. Acrylic, oil, and collage on panel, 72" x 96". Collection of Oceanside Museum of Art, Gift of Atticus Williams, 2010.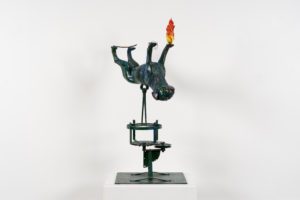 Italo Scanga, Untitled (Blue dog with glass flame), 1992. Metal, glass, and thorns, 60" x 24" x 18". Collection of Oceanside Museum of Art, Gift of the Italo Scanga Foundation, 2011.
About the Curator
Danielle Deery is an independent curator and former Director of Exhibitions at Oceanside Museum of Art (OMA). She has curated 32 exhibitions at OMA including James Hubbell: In Search of Shadows (2013), Intersections: Charles Arnoldi (2013) and Tony DeLap: Selections from 50 Years (2013). While at OMA Deery served as Curator/Director of Marketing (2013-2014), Director of Exhibits and Marketing (2011-2013) and Assistant Director (2008-2011). Recently, Deery curated Endangered: Exploring California's Changing Ecosystems (2020) at Escondido Center for the Arts and Tangible Memories at La Jolla Historical Society (2019). Deery also has experience in the academic setting as Adjunct Assistant Art History Professor (2008-2014) and Interim Gallery Director (2008) at Fullerton College and Adjunct Assistant Professor of Museum Studies at Irvine Valley College (2013). She lives in North County San Diego, teaches art to kids in her home Rainbow Art Studio, serves as a board member for the San Diego Museum Council and writes a Blog for the organization called Museum Fun with my Kids. Deery received her BA from Hobart and William Smith College and her MFA from California State University, Fullerton.
---
Artwork pictured at the top of the page, left to right: Allison Renshaw, Panic at the Disco (detail); Perry Vasquez, A Hole in Thin Air (detail); James Hubbell, Untitled (detail); Dan Olfe, Terra Incognita (detail).