Many of us may have limited knowledge of planned giving strategies and yet they can be a valuable way to give a significant gift to an organization you care about such as Oceanside Museum of Art. Your estate would receive a charitable tax deduction and, in some cases, result in additional distributions to your beneficiaries. You also may be able to save on capital gains taxes and remove highly appreciated assets from your estate. Your legacy gift can include cash, securities (stocks and bonds, mutual fund shares), real estate, or other tangible personal property (artwork, artifacts, equipment, etc.).
You can take advantage of a variety of planned giving formats that offer unique benefits to you and be of benefit to the charity, also.
Your legacy gift to Oceanside Museum of Art may include any of the following:
Trust or will designation naming OMA as a beneficiary for a specific amount or percentage in your trust or will
A transfer of the ownership of your house to OMA, retaining a life estate for yourself
Designate OMA as a beneficiary on your life insurance or retirement account
Stock Donation - a gift of highly appreciated stock
Charitable Remainder Trust where you have income for life and the remainder is distributed to OMA upon your passing
Charitable Remainder Annuity, an insurance product providing income for your life and the remainder to OMA upon your passing
For more information, call the executive director, (760) 435-3725. We have member attorneys who can steer you in the right direction, or we can provide information to your estate planning attorney.
Thank you, your future gift creates a lasting legacy.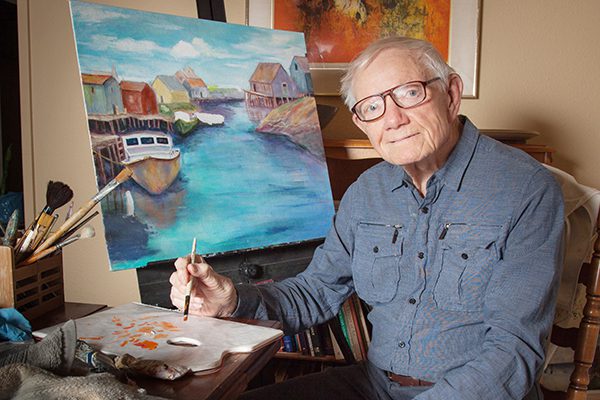 LEGACY SOCIETY PROFILE:
RAY MILLER
Ray Miller's philosophy is, "You don't have to be wealthy to make a difference at OMA. Every little bit counts!" Miller is a member of the OMA Legacy Society and has generously bequeathed his house to the museum. When he moved to Oceanside 30 years ago, he recognized that the city could use some sprucing up. He was thrilled that some local residents decided to open a museum downtown. He had volunteered for the Friends of the Library, sorting books in the old Irving Gill City Hall. The improvements made to the building and its expansion are a miracle in his opinion. Miller is a retired insurance underwriter and he has since embarked on an artistic path of his own, using oil and acrylics to paint beautiful landscapes. Please consider joining Ray Miller in creating a lasting legacy for OMA. For more information please contact Executive Director Maria Mingalone at (760) 435-3725 or maria@oma-online.org
---
---
Click here to support OMA