Beata Mierzwa: The Beauty of Science
A Museum Store Feature Exhibit
october 30, 2021–november 28, 2022
Inside every one of us lies a tiny universe that makes all life possible–a world too small for our eyes that is not only fascinating but also amazingly beautiful. My art invites you to discover biology from a unique angle, highlighting the depth, complexity, and beauty of the magical world inside every living being.
"I am a molecular biologist and artist who combines science, art and fashion to share the beauty of biology with the world. I discovered that creativity is an integral part of both science and art, and that combining these passions creates a unique and innovative way to communicate scientific concepts.
My artwork focuses on the molecular level, showing processes that make all life possible. Each illustration requires breaking down the essence of complex scientific information and translating it into aesthetic visuals, using metaphor and abstract imagery that highlight biological concepts in intuitive ways. I also design science-inspired fashion printed with drawings and microscopy to share visually stunning scientific images with the world—offering a glimpse of what has fascinated scientists and scholars for centuries.
To create each scientific illustration, I collaborate with my partner, Matthew Cooney, who specializes in conservation and science communication. We begin by considering a scientific concept or recent discovery, discussing how to communicate it both inside and outside the scientific community. I then make a detailed pencil drawing–sketching by hand allows me the greatest level of detail. For me, nothing can replicate the texture and feel of a real pencil on paper. After taking a high-resolution scan, Matthew digitally outlines the drawing for post-processing, and finally, I add the colors and scientific data to create the finished piece.
My passion for artistic expression is driven by a strong desire to create a positive impact on our world. While scientific research is key to solving the world's most pressing issues, I firmly believe that it is our responsibility to make these concepts accessible to everybody and change the way we as a society approach research, education and communication. My art aims to illustrate that science offers so much more than oversimplified concepts from textbooks, as well as how many wonders are still waiting to be discovered." –Beata Mierzwa
---
Beata Mierzwa was selected for this exhibition as the People's Choice winner from OMA's virtual art fashion event in 2020, Night of the Living Art: An Art After Dark Extravaganza. Take a look at the replay here, with Beata's artwork featured at 21 minutes 24 seconds.
---
Watch the videos below to hear directly from the artist about her artwork
[embedyt] https://www.youtube.com/watch?v=kZQ_J1IWayw[/embedyt]
On Chromosome Segregation
[embedyt] https://www.youtube.com/watch?v=J4m5D_6KnOY[/embedyt]
The artist on The Final Cut
[embedyt] https://www.youtube.com/watch?v=pahX7-0t_Y0[/embedyt]
Beata Mierzwa, Molecular Galaxy. Acrylic print of pencil drawing, 20" x 30".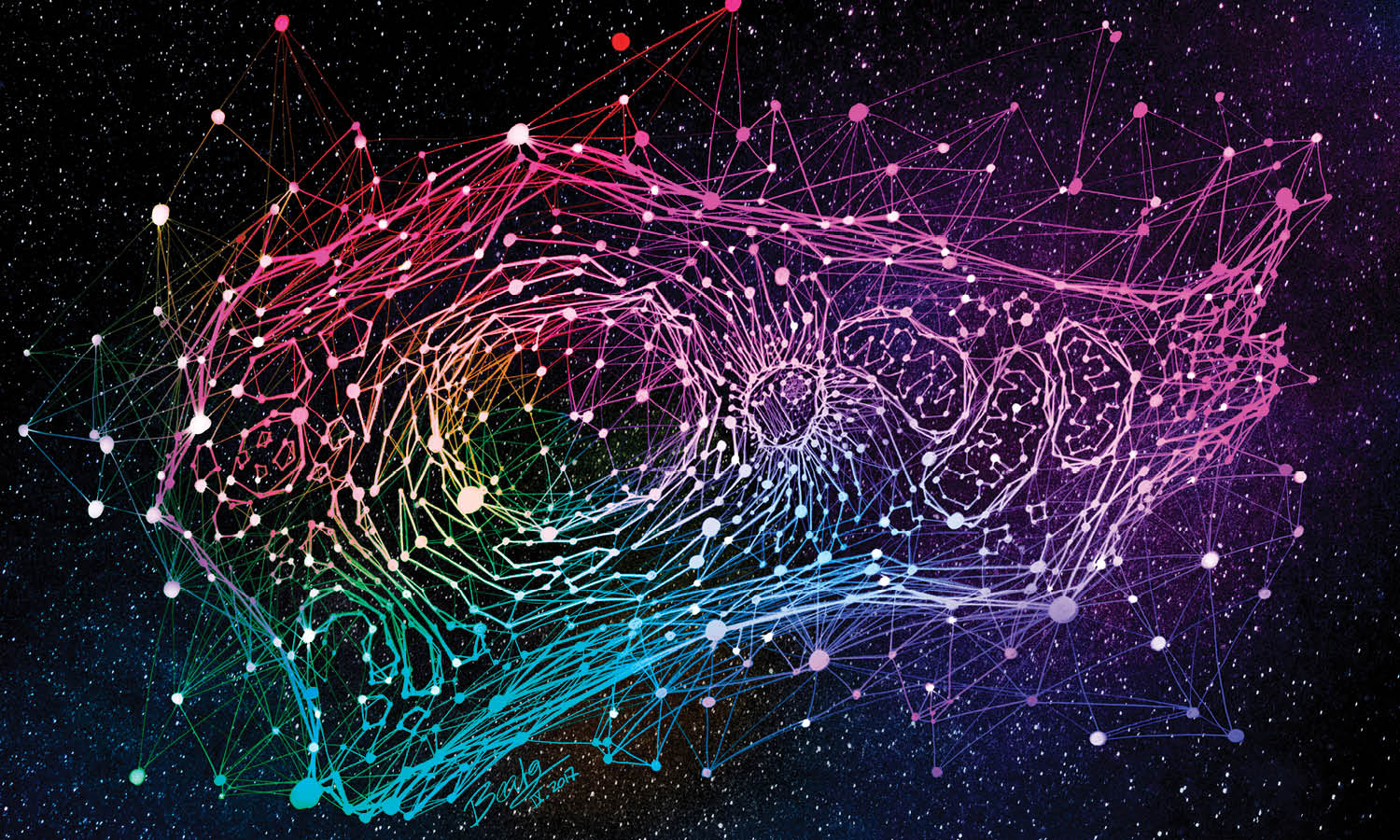 Image 2 of 22
To carry out diverse biological functions, every single cell within our bodies contains a vast network of interactions between molecules, resembling intricate constellations in the night sky. This cell-shaped network highlights diverse cellular structures, like mitochondria – 'the powerhouse of the cell', the cell membrane, as well as the nucleus that holds the DNA.
LEARN MORE ABOUT THE ARTIST
PROGRAMMING RELATED TO THIS EXHIBITION
Exhibition Celebration, Saturday, November 20, 2021
Header artwork: A collage of real microscopy images of human cells by Beata Mierzwa
If you would like to learn more about the artwork, including if the artist has work available to purchase, please email exhibitions@oma-online.org.