Griselda Rosas: Regata Abscisa
February 15–May 24, 2020
The U.S.-Mexico border is more than a stark divide between nations. It is a place of convergence where meaningful conversations between cultures begin.
---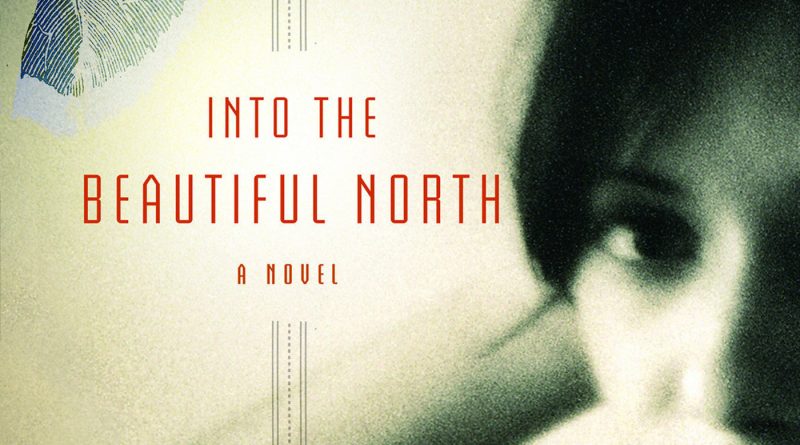 This exhibition draws its themes from Oceanside Public Library's 2020 NEA Big Read novel choice Into the Beautiful North by Luis Alberto Urrea. It is a story of a quest for new solutions to old problems, using compassion, complexity, and humor to explore immigration and the people and places caught up in the U.S.-Mexico border wars.
The tale follows teenage Nayeli as she journeys from her village in Sinoloa, Mexico with three friends to find the men who abandoned her village seeking work in the U.S. Her travels take her to Tijuana and San Diego, and ultimately deeper into the U.S. before she returns home.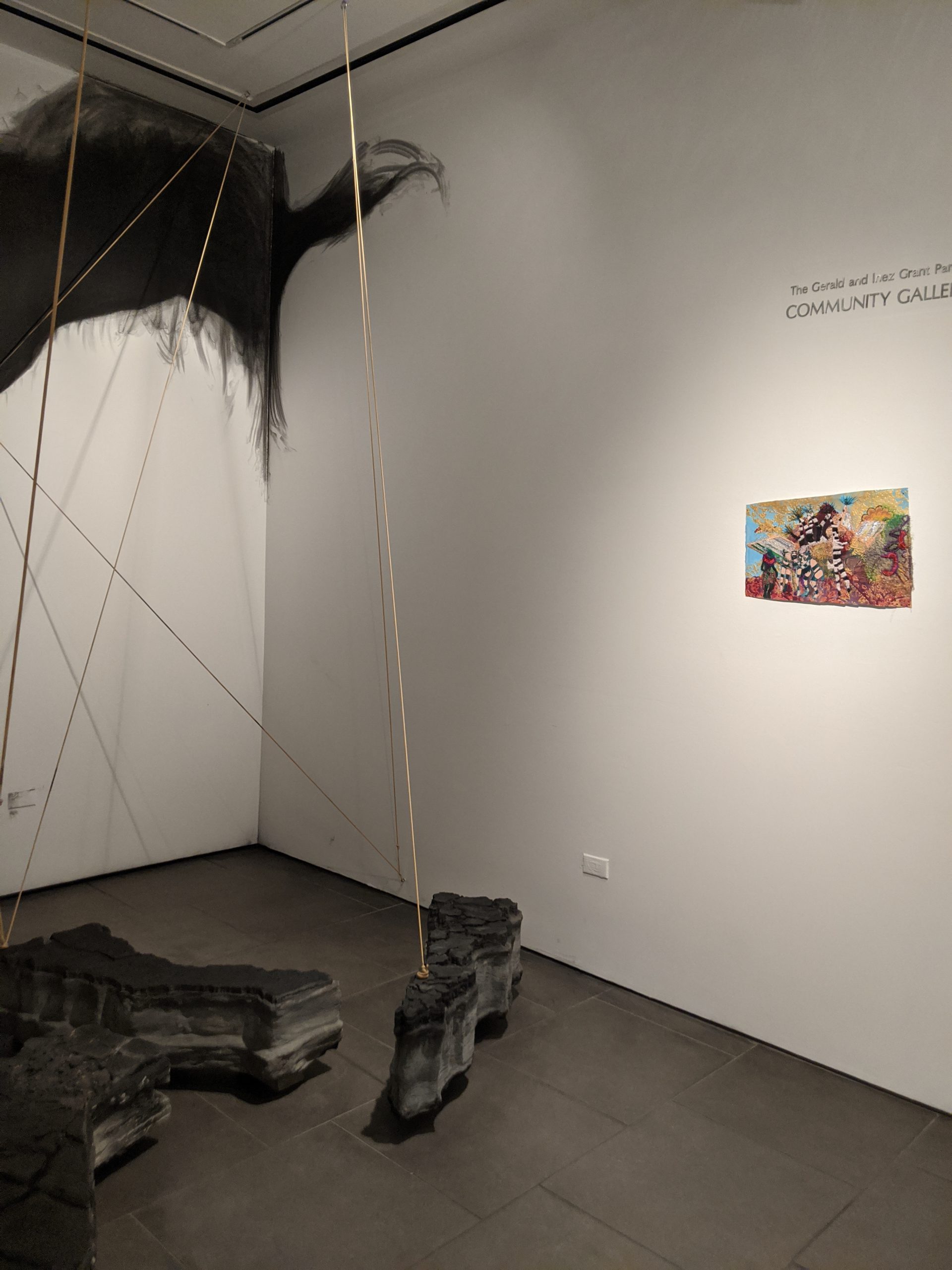 Represented in concrete are maps where Nayeli travels—
the Mexican state of Sinaloa where the characters in the story begin their migration in Mazatlán, then Tijuana in Baja California, and ultimately San Diego. Their relationships with each other are skewed as the definitions between borders shift and distort.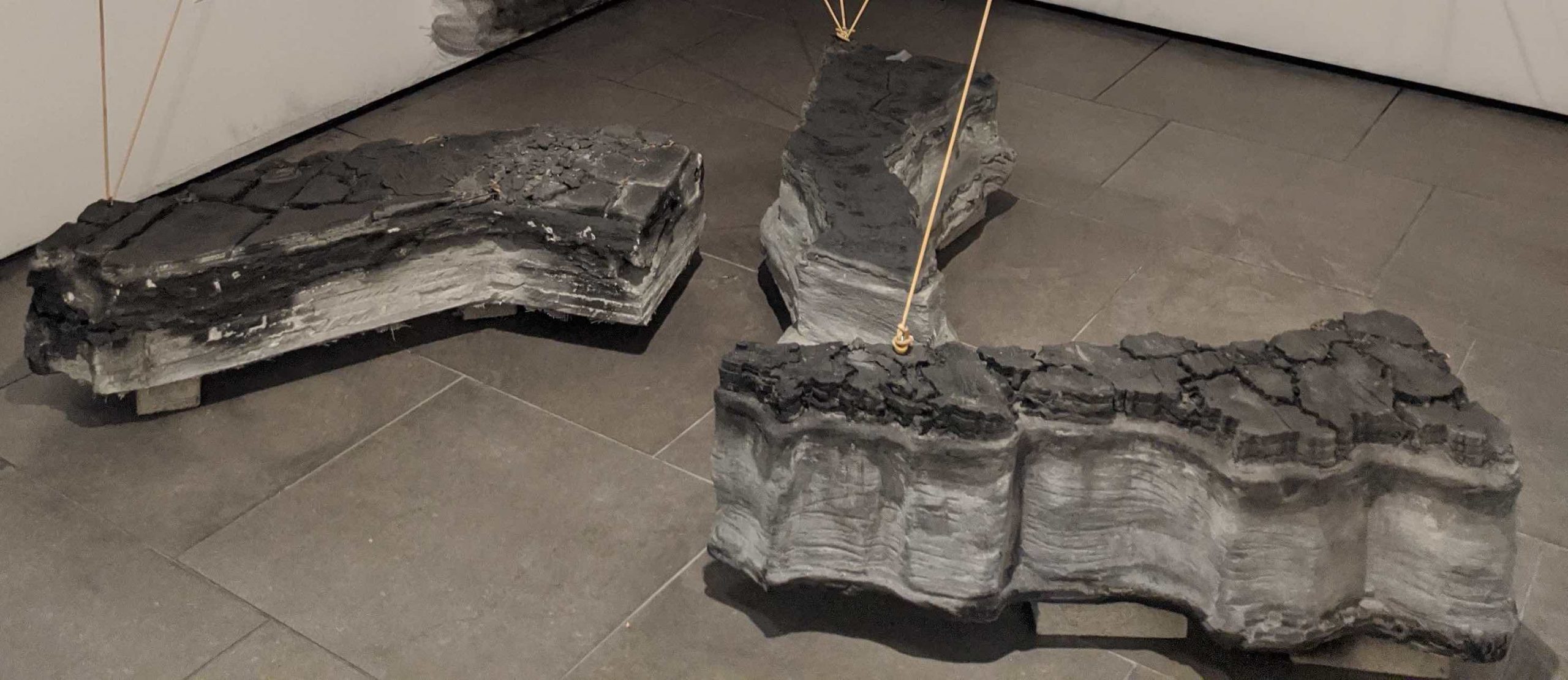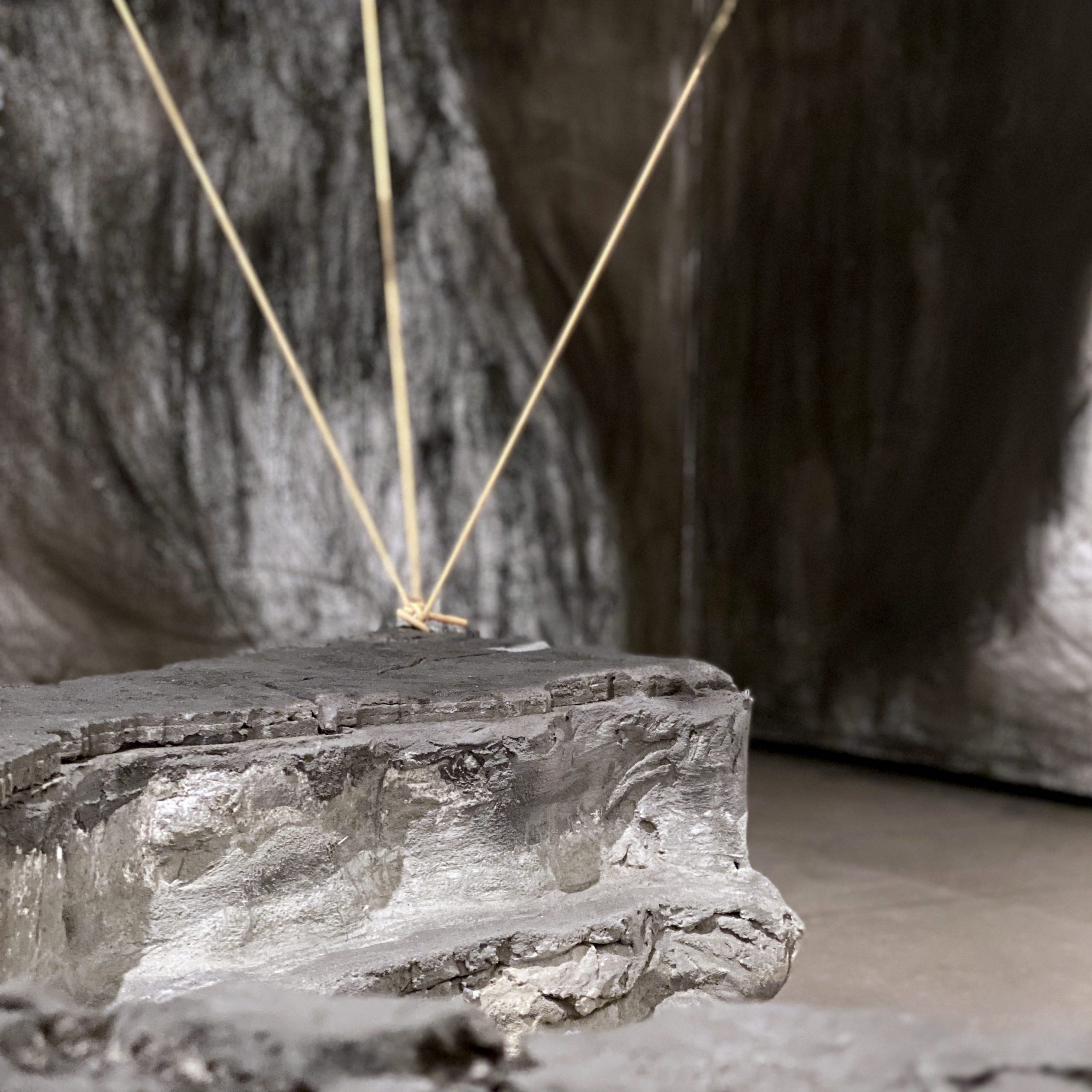 Photo courtesy of Alejandro Arreguin Villegas.
Elastic bands like slingshots connect the concrete maps, representing Nayeli's journey and suggesting the bouncing and volatile changes in our borders.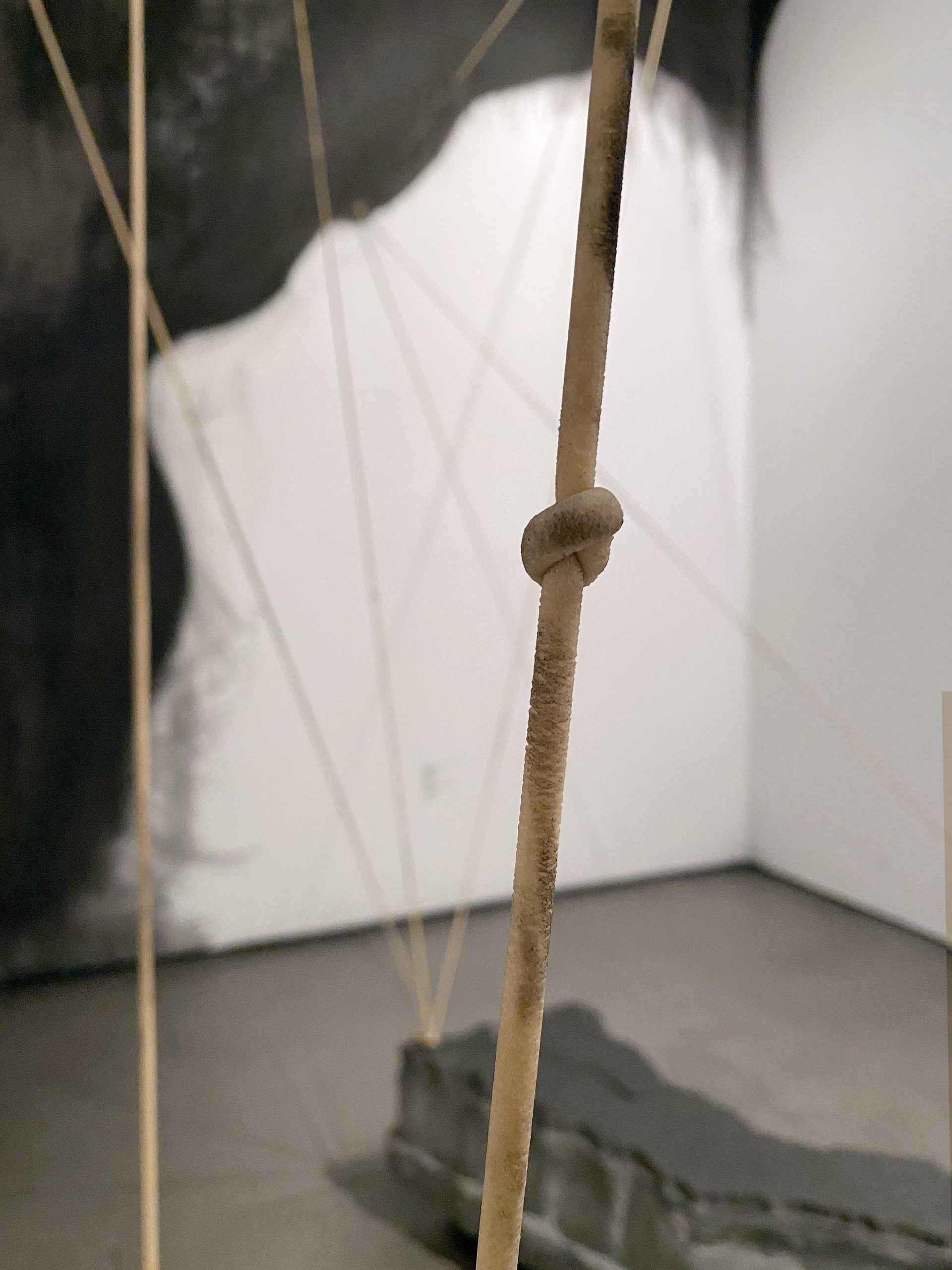 Photos courtesy of Alejandro Arreguin Villegas.
The burnt appearance of the surface was inspired by the devastating California wildfires.
Photo courtesy of Alejandro Arreguin Villegas.
The embroidered imagery parallels the novel
by taking serious political, economic, and migratory subjects with humor, stimulating reflections on our current status quo, metaphoric associations, and constructing new procedural semantics.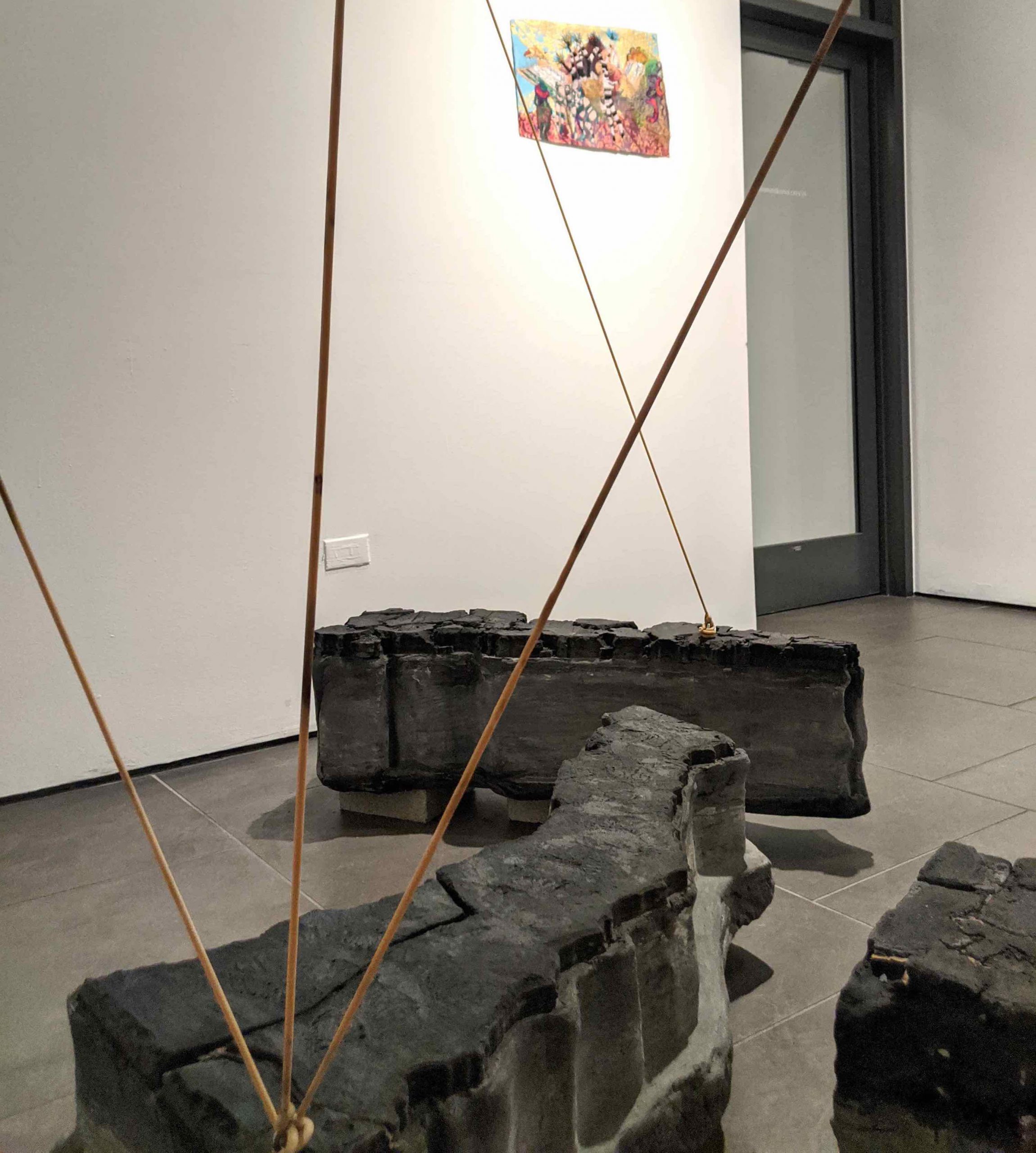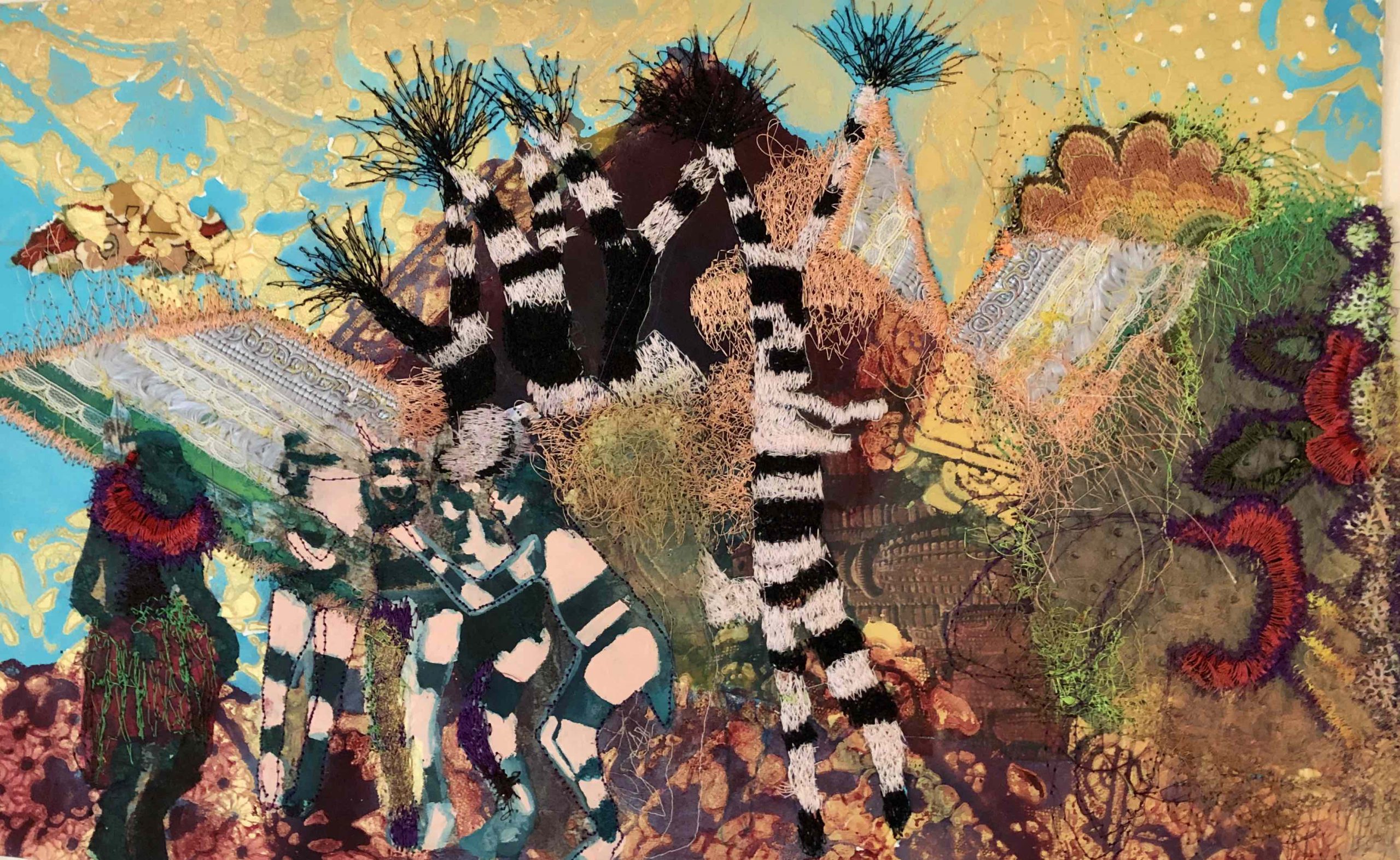 Looming over Nayeli's journey, and coloring the backdrop of the novel are the changes that have occurred in migration, as well as the exchange of goods and services in the after-math of colonization, territorialism and human mobility.
The smoky, undefined figure represents the chaotic breakdown of class and race structures, symbolizing our current political climate.
Photo courtesy of Alejandro Arreguin Villegas.
"Regata" refers to a water channel that hits a wall, and "abscisa" is the horizontal value in a pair of coordinates. The exhibition title refers to water racing forward, although its natural movement is obstructed.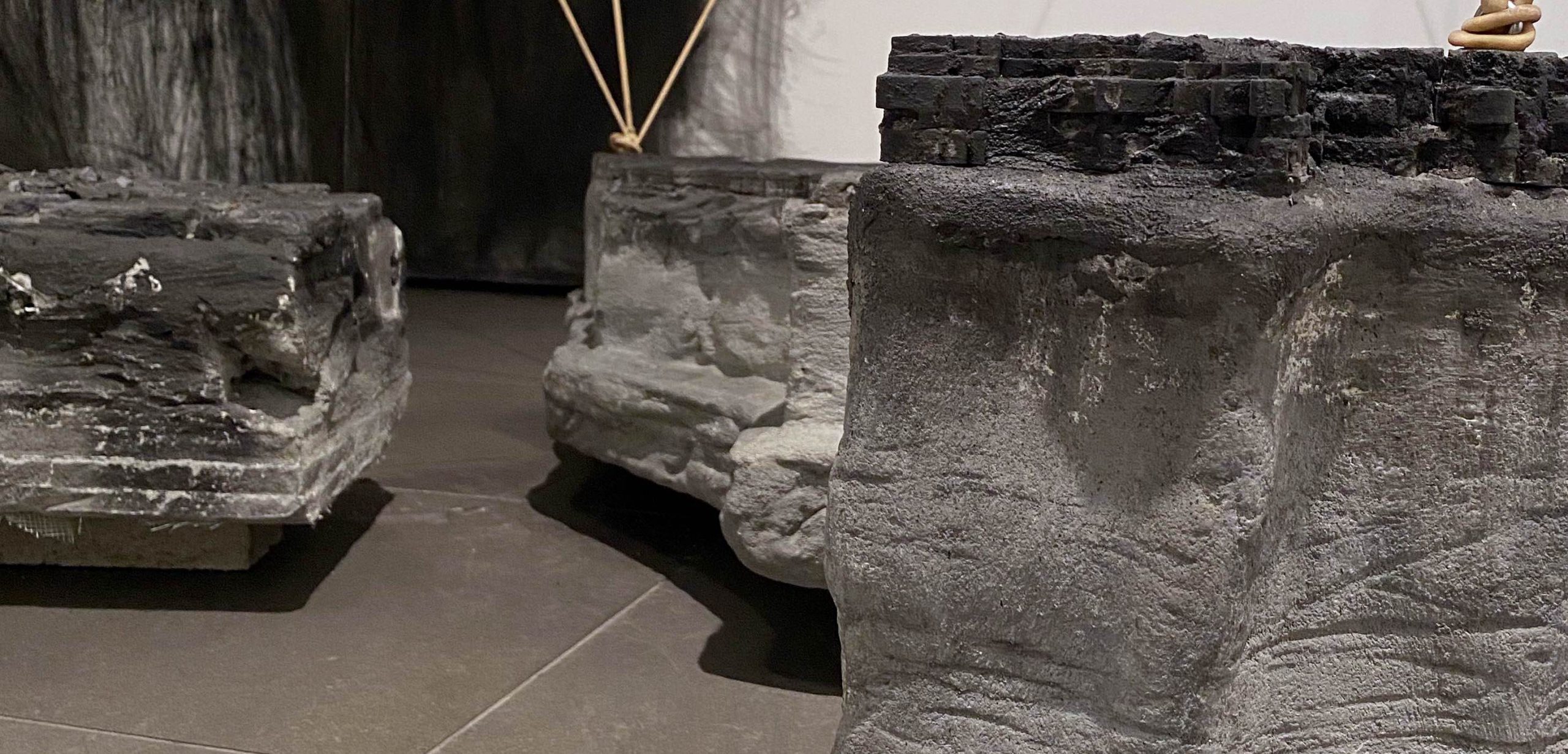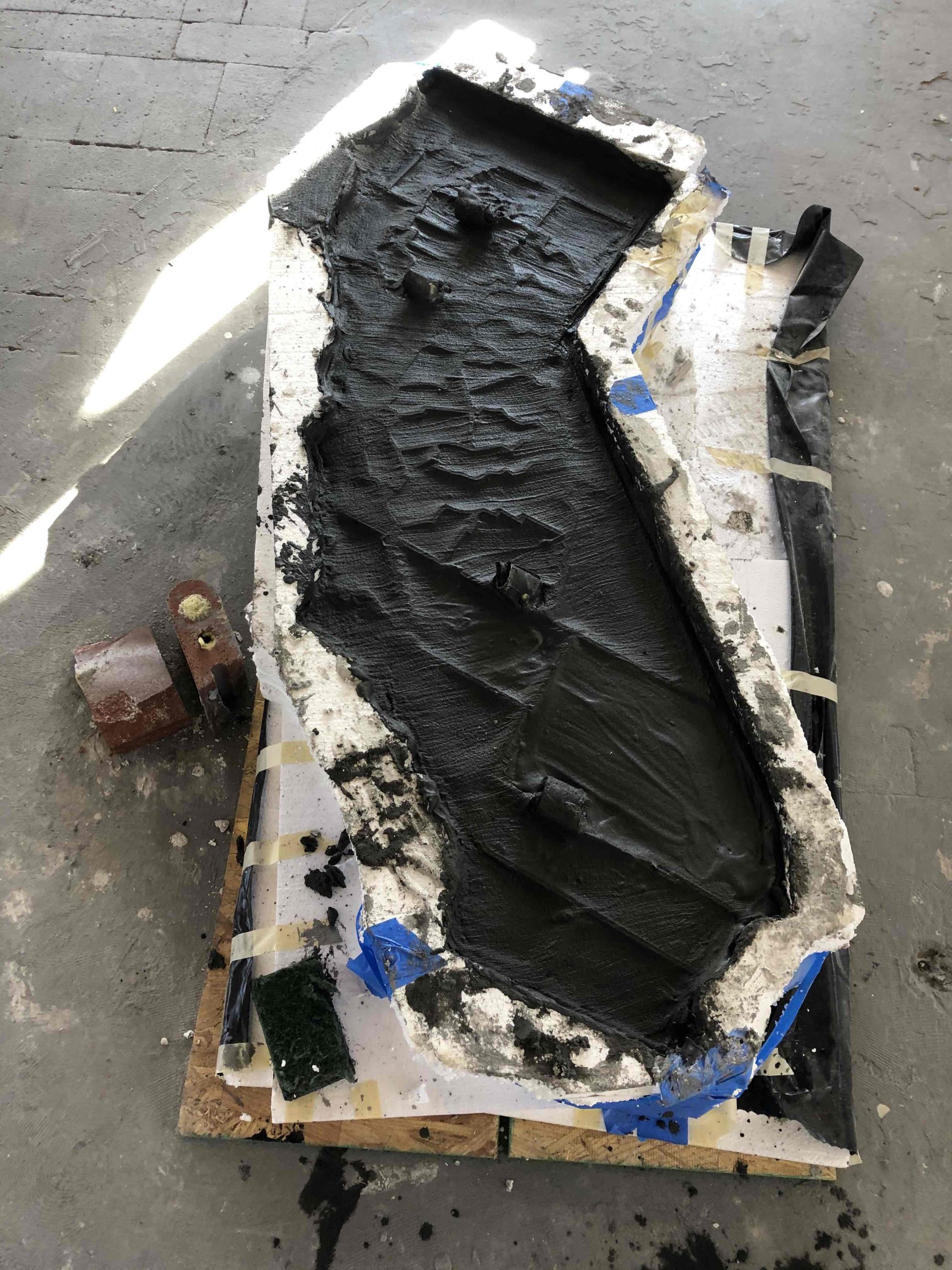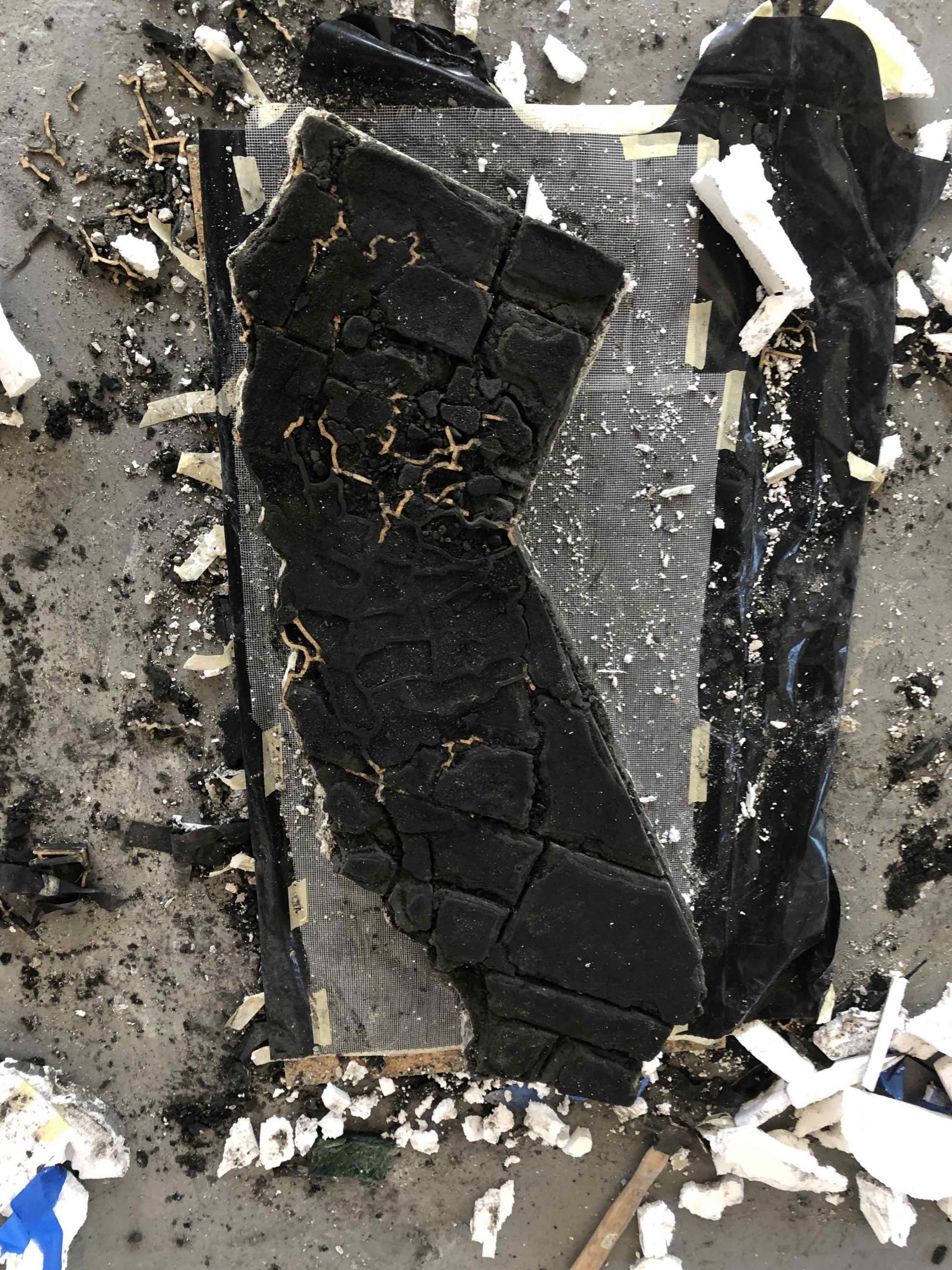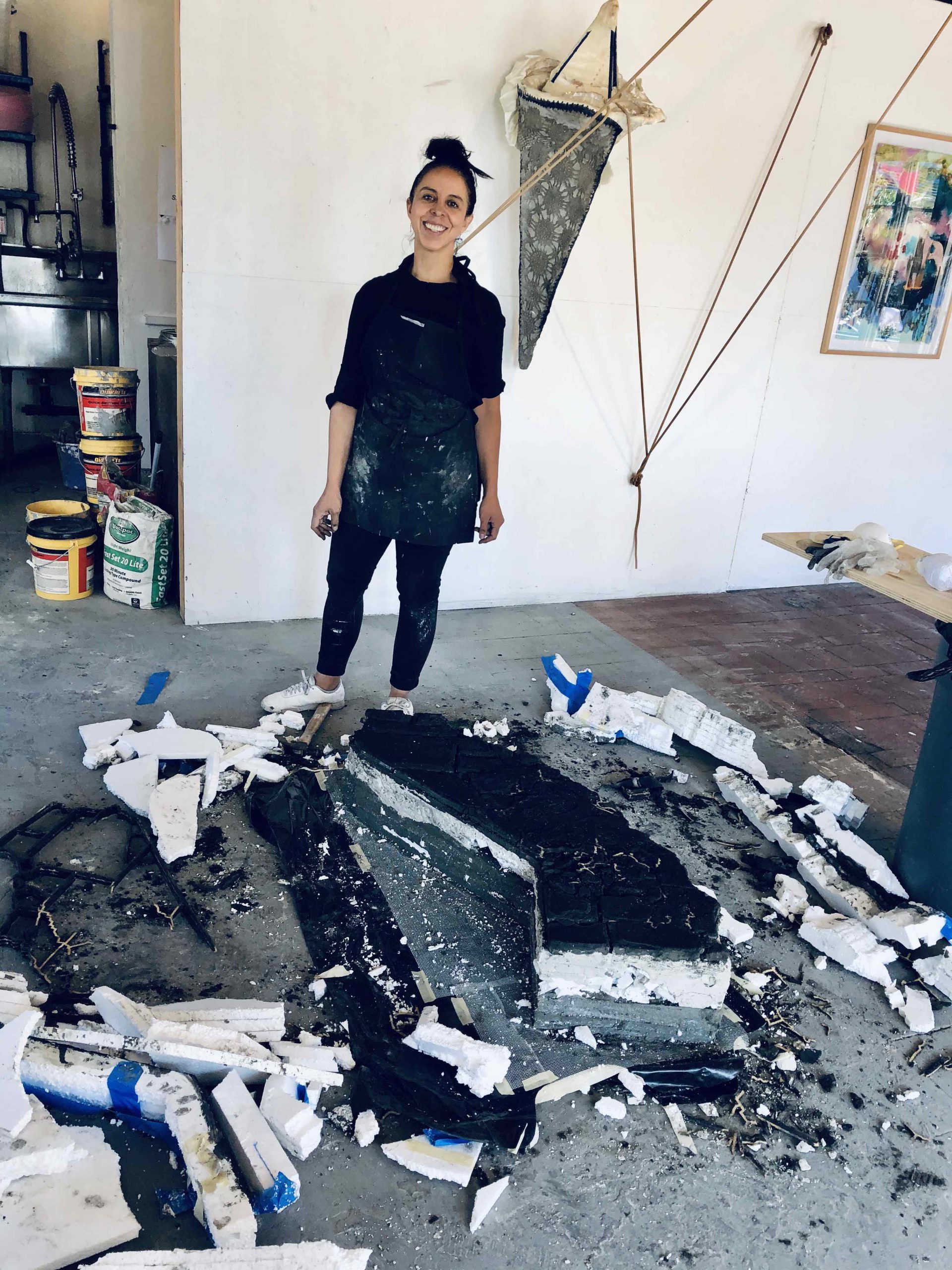 Rosas' studio practice is based in Tijuana and San Diego. She employs found objects to forge new and poetic meanings around ethnic and gender identities, the ongoing circulation of culture and goods, and the possibilities of cultural hybridity.
---
Oceanside Museum of Art collaborated with Oceanside Public Library for the grant the library received for this year's Big Read, a program of the National Endowment for the Arts in partnership with Arts Midwest.