DORIS BITTAR 1989-2007: JUSOUR WA KUSOUR
February 11–April 1, 2007
Curated by Catherine Gleason
Doris Bittar was born in Baghdad, Iraq of Lebanese parentage and her early childhood was spent in the outskirts of Beirut, Lebanon. Her family immigrated to the United States where she studied fine art earning a Master of Fine Arts from University of California, San Diego. Bittar is a past recipient of a California Arts Council Fellowship, the author of several cultural essays, and is a lecturer at the University of California, San Diego and San Diego State University.
As an Arab in Western society, Bittar feels strongly connected to the traditions of the Middle East – the nurturing and hospitality that are deeply entrenched even in the face of political upheaval. While teaching at the American University in Beirut during 2005 she visited a Palestinian refugee camp, and several cities in Iran and Syria. Bittar found the Arabic phrase kul shay (all things) to describe her feeling of the mix of Middle Eastern cultures – their decorum, abundance and contradiction. The Arabic title of the exhibition translates as "A Bridge and a Chasm" which reinforces Bittar's themes of personal identity and political struggle.
Bittar combines images of Middle Eastern decoration with personal narrative to express issues of immigration and history. Her visual vocabulary is shaped by the design and calligraphy of Islamic manuscripts, the cross-pollination between the European Realist painting tradition, and the perception of the exotic Orient through fabrics of the Ottoman Empire adopted by the French. In the series Semites, her life size portraits of Jews and Arabs are veiled in text-laden sheer fabric that creates shrouded barriers. Many of the images in the series Lebanese Linen come from photographs taken by Bittar's grandfather that capture a close-knit family at the end of the 1960s "golden" period on the verge of a civil war. The patterns in these paintings reflect the ancient past, the colonial past and the recent past tinged with the French decorative style embraced by the Lebanese.
This solo exhibition presents work from 1989 to the present that expresses Bittar's reflections on the cultural landscape of the Middle East and her family's history in the region. It features paintings from the series Lebanese Linen, People of the Book, and The Wandering Ishmael, and installations from the photographic series Kul Shay/All Things, completed in 2005 during Bittar's six month journey through Lebanon, Syria, and Iran.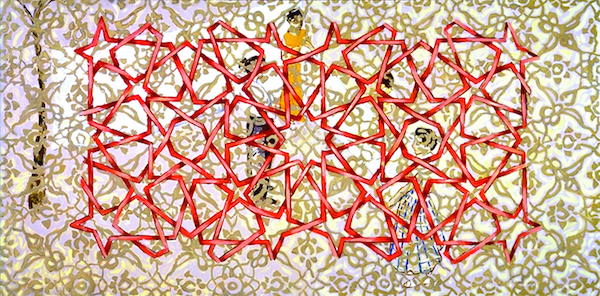 Doris Bittar, Folding Linens Araby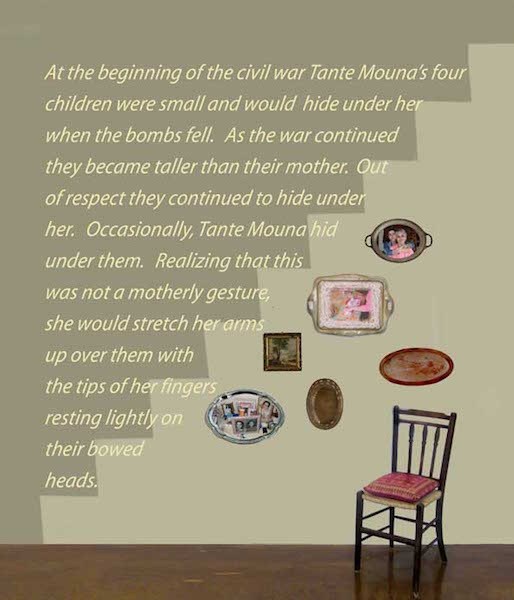 Doris Bittar, Tante Mona Serving Coffee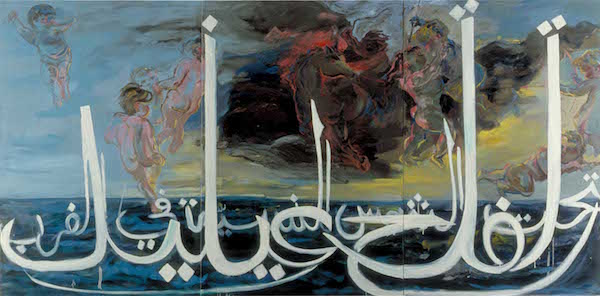 Doris Bittar, You Open Your Eyes Under the Oblivious Sun of the West