fri04feb6:30 pm8:00 pmAround The Campfire: A Spoken-Word Gathering of Scribes and StorytellersAT OMA6:30 pm - 8:00 pm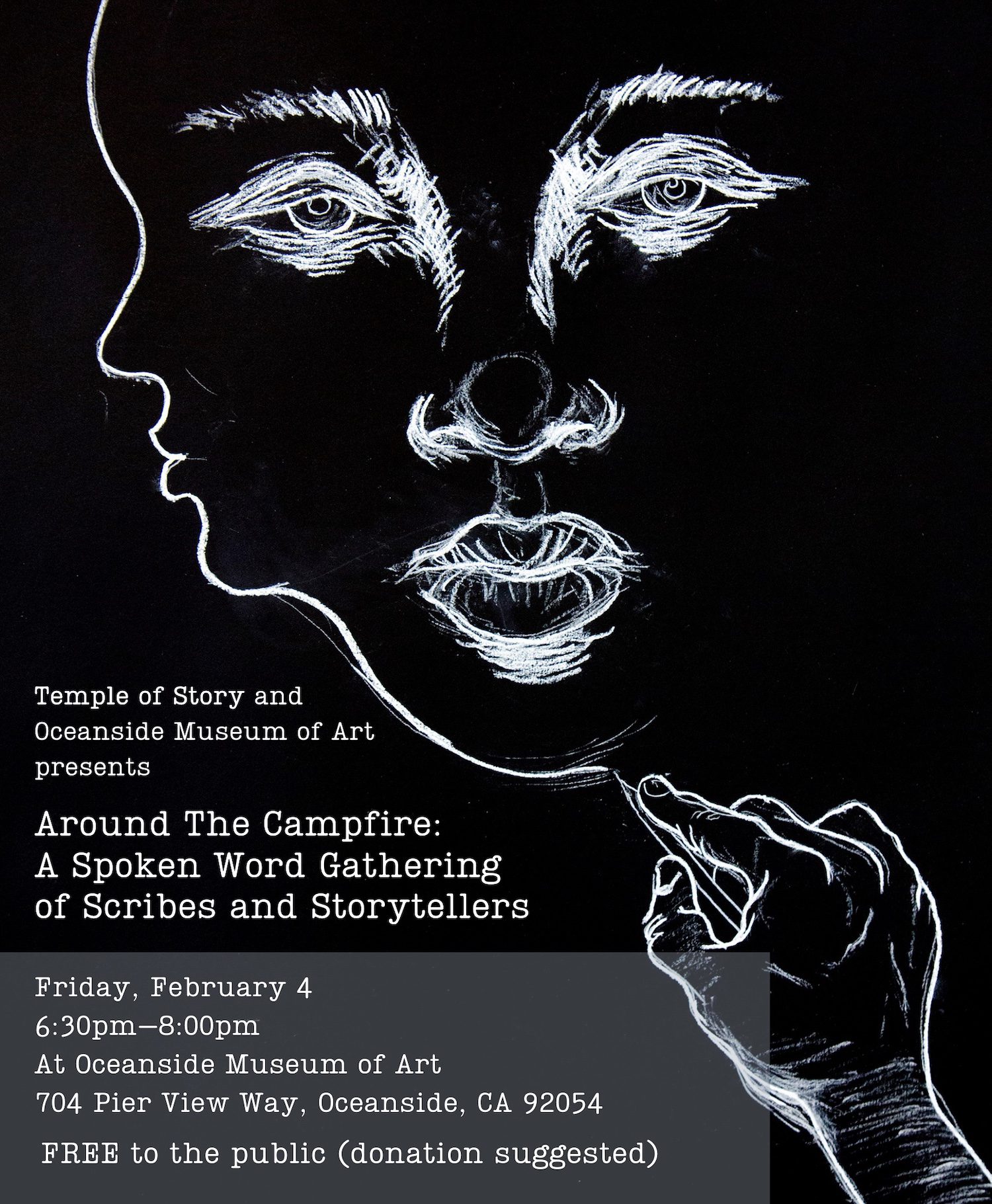 Time

(Friday) 6:30 pm - 8:00 pm
Location

Oceanside Museum Of Art

704 Pier View Way
Event Details
Presented by Temple of Story and Oceanside Museum of Art
A story can be a call to adventure for open hearts and minds – you just have to listen. In association with the exhibition Neil Kendricks: Temple of Story, we invite you to join local writers, poets, and storytellers for an immersive experience of reflection and renewal. Come gather by our communal "campfire", and listen to original stories of fresh beginnings, rebirth, healing and new dreams for the New Year and beyond.
---
This program is part of First Free Fridays at Oceanside Museum of Art starting in February 2022.
---
Free

---
PARTICIPATING ARTISTS
Neil Kendricks
is an artist, filmmaker, writer, photographer, and educator who earned a Master's degree in Television, Film and New Media from San Diego State University in 2006. Kendricks participated in Art Produce's 2020 Artist-in-Residence program where he created a series of mixed-media drawings exploring the fallout of systemic racism in America. The artist, writer, filmmaker and educator is searching for completion funds for his documentary-in-progress Comics Are Everywhere!, which has received grants from the 2013 Creative Catalyst Fund/ Individual Artist's Fellowship and the William Male Foundation's 2019 Artist's Grant. Kendricks' short films 2002's Loop and 2015 short films, Memory Lines and Suspension, among others, have screened at numerous international film festivals. His new short film Book of Skin is currently in post production. Recently, Kendricks' short films were shown in the exhibition Mirror, Mirror: Lights, Camera, Dreams! at Bream & Salt gallery in 2021. Kendricks' drawings and short fiction in his interdisciplinary art exhibition Temple of Story in collaboration with composer/ musician Mike Mare, currently on view at the Oceanside Museum of Art through February 20, 2022. His latest, mixed-media drawings are among the artworks in the group art exhibition Herd Immunity on display at San Marcos' SIP Studio and Gallery until March 5, 2022. In addition to his drawing practice, Kendricks is writing short fiction and feature-length screenplays-in-progress.
---
Robert Lang
, was born in Sacramento and raised in San Diego. He grew up with a book in hand, always reading every opportunity. Out of high school, he developed an interest in Psychology and Mental Health and earned his Bachelor's in Clinical Psychology. Since college, Robert has worked in the mental health field, and has become an advocate for awareness and acceptance of neurodiversity. He decided to go back to school because of his immense love for writing and literature. He hopes to combine his experiences and passion for mental health advocacy with the written word and create stories that can resonate with all audiences.
---
Bruce Matthes
, a San Diego native, grew up with a half pipe in his front yard. Later, he fell in love with surfing, snowboarding, and ski-mountaineering. His passion for outdoor adventure inspires much of his work. He is Associate Professor, Chair of Integrative Studies at NewSchool of Architecture and Design where he teaches the interdisciplinary course, The Evolution of Surfing & Skateboarding, which he designed with Alex Wilson, editor of The Surfer's Journal. Matthes holds an MA in English from California State University, Chico, co-authored the text, Evidence Based Design, and is near completion of his first novel, Sanctuary.
---
Dr. Almena Lowe Mozon
embraces you with stories designed to inspire and inform. Almena, from Greensboro, NC is a Clinical Psychologist, Life and Business Empowerment Coach and Staff Counselor at New Song Community Church in Oceanside, CA. She often sprinkles her inspirational, lesson-charged tales with melodic moments to increase the listeners' joy. Audiences of all ages in schools, churches, work places, and community gatherings are left wanting more.
---
Ollis Jon (OJ) Mozon, Jr.
loves to tell stories that energize hope, encourage faith, exude love and enlighten minds. While serving as a Navy chaplain he discovered the joys of storytelling. Over the years he has shared his expanding repertoire of Bible stories, folktales, myths, legends and historical vignettes for community and cultural festivals, churches, and historical presentations around the world, including the Swansboro, NC Coastal Storytelling Festival and the Northwest Folklife Festival in Seattle, WA. He serves as Director of Orality Training with Dynamic Church Planting International.
---
Aunt Li-Anne Rowswell Mufson
is a Professional Storyteller and Actor, performing for more than 30 years. She has taught Storytelling at Mira Costa College, in residencies and workshops for students in k-12 School Districts, for Professional Development for teachers, Storytellers of San Diego Institute, as well as doing private coaching. Aunt Li-Anne is also a Clinical Herbalist and HHP, and has presented for the Healing Story Alliance at the NSN annual conference. She enjoys growing culinary and medicinal plants and concocting teas and medicines. Aunt Li-Anne adores Story and the ancient art of oral storytelling, working in music where possible. Aunt Li-Anne Rowswell Mufson is also a State Liaison for the National Storytelling Network, Co-Chair for the Youth Educators and Storytellers Special Interest Group, Founding Secretary for the Storytellers of San Diego, a proud member of San Diego Performing Arts League and the Winner of the 2020 NSN First ever Virtual Story Slam!
---
Bernie Nofel
is a leading member of San Diego's writing community. He published his first novel, "Mirror Mirror: A Mystery" three years ago, and is currently working with a talented writing group in editing his second novel, "Ghost Pain." Bernie is an award-winning flash fiction author, and has had multiple pieces selected for publication into the annual Writers Ink Best Of anthologies. He is an active participant in local writing groups, including Thursday Writers and Dime Stories, and is also an actor and college instructor. Bernie says, "I don't guide my stories, but let them reveal themselves to me. I unwrap them as gifts, and do my best to accurately share what I find inside."
---
Dr. Carmen Carrasquillo Serrano
was born in Puerto Rico. She is an educator and poet with roots in Philadelphia. She is a San Diego Area Writing Project Fellow, former National Endowment for the Humanities grant recipient and a current Mellon Foundation grant coordinator. She was inducted into the Edward Alexander Bouchet Honor Society at Yale University. Her work has appeared in Visions Across the Americas. She has a doctorate in Education and is the President of TYCA (Two Year College Association) Pacific Coast. Her research interests include equity and social justice in education, critical pedagogies, media literacies, critical race and gender studies, and multiculturalism.
---
Ted Washington
is an artist, author, poet and reluctant businessman. He is the founder of Puna Press and the performance group Pruitt Igoe. Ted is the cofounder and host of Palabra, a reading series held twice monthly in San Diego.