We're transforming the Museum into a stage.
Come discover musicians, spoken word artists, dancers, and performers from across Southern California on our terrace. Bring family, meet new friends, or roll in with your crew to the 'block party' of the Cultural District—Street Level.


Street Level is open to all ages. Adults 21+ who would like to purchase alcoholic beverages must show ID.
UPCOMING STREET LEVEL CONCERT EVENTS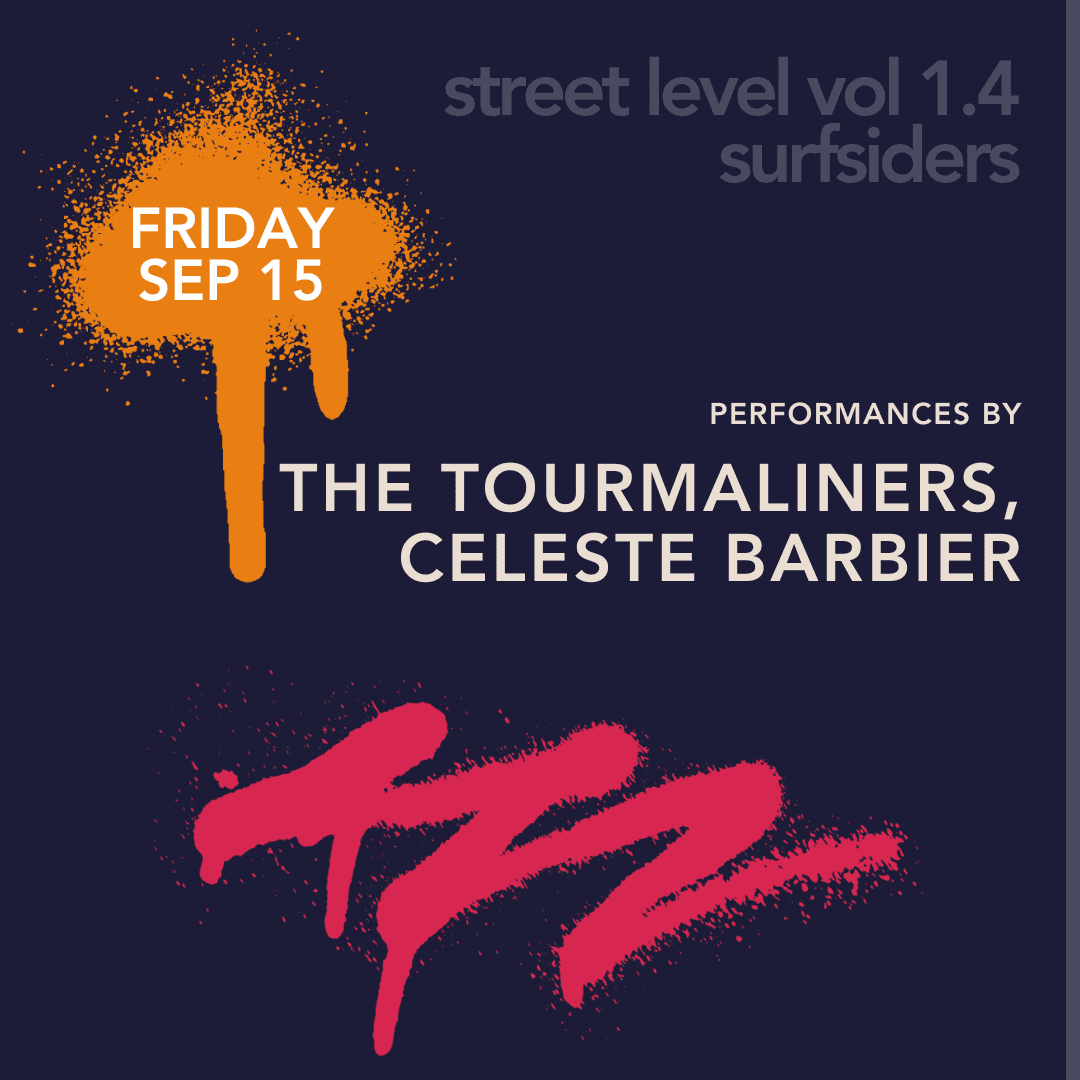 Street Level Vol. 1.4 Surfsiders
As the sun sets on another unforgettable summer, it's time to say goodbye to the sun-soaked days in true SoCal style—with the beachy sounds of surf music. Join us for Street Level Vol. 1.4: Surfsiders featuring sensational surf band, The Tourmaliners, and talented vocalist Celeste Barbier. Revel in the essence of our beachside lifestyle, the music, the drinks, and the camaraderie that make our gatherings original.
The Tourmaliners | @thetourmaliners | thetourmaliners.com | Watch Tourmaliners on Youtube | Listen to Tourmaliners on Spotify
A Surf Guitar Band from San Diego, CA
Celeste Barbier | @celestebarbierevents | celestebarbier.com | Watch Celeste on Youtube | Listen to Celeste on Spotify
Solo Vocalist from Oceanside, CA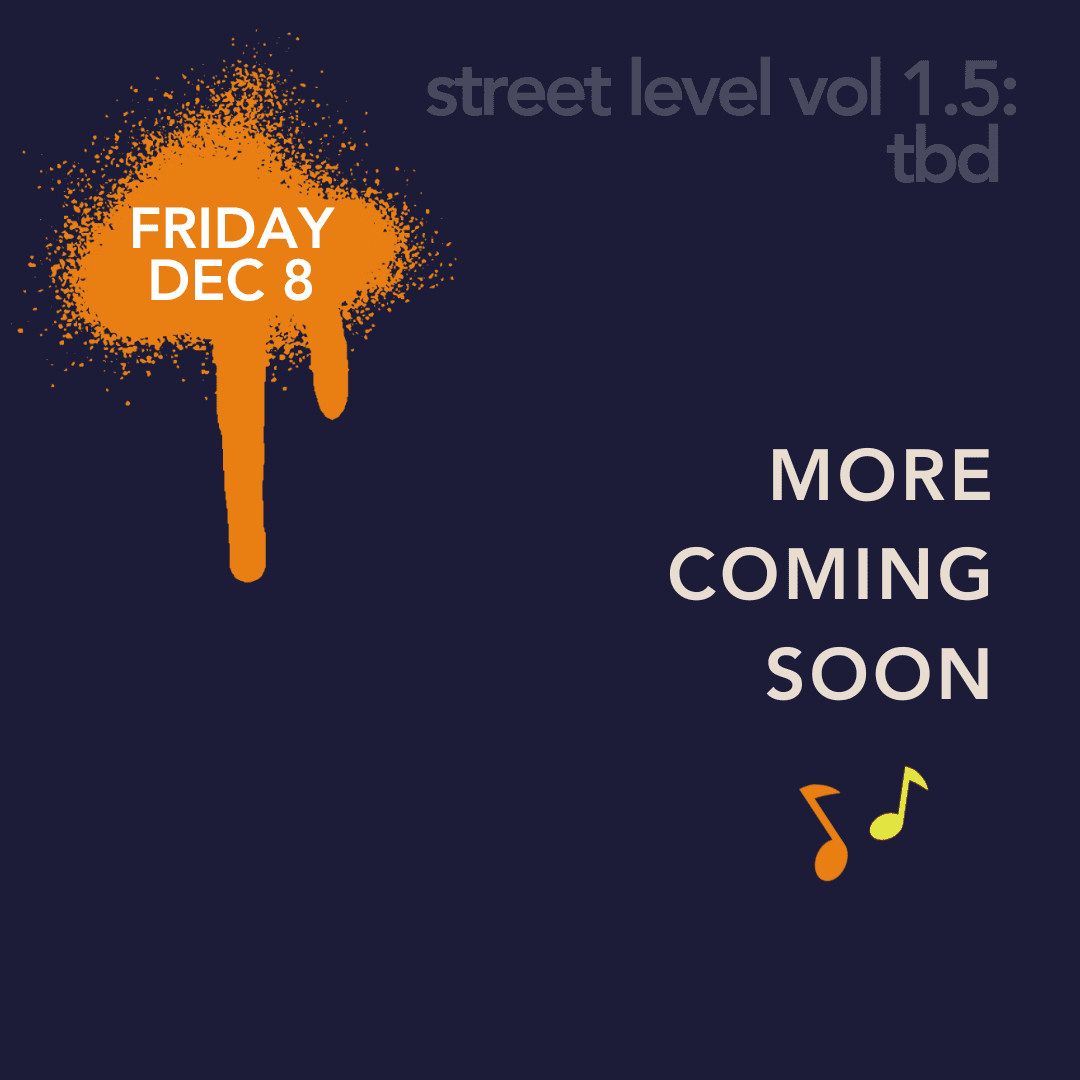 Street Level Vol. 1.5 TBD
A gathering of artists and performers from our beautiful community. Check back for more information.

STREET LEVEL FEATURED PERFORMANCES AND ENTERTAINMENT


Don't miss the reoccurring 'block party' of the Cultural District.
Get your ticket to our upcoming Street Level event!
THANK YOU TO OUR MEDIA SPONSOR


Want to be a sponsor of Street Level? Please send an email to georgia@oma-online.org
PAST STREET LEVEL CONCERT EVENTS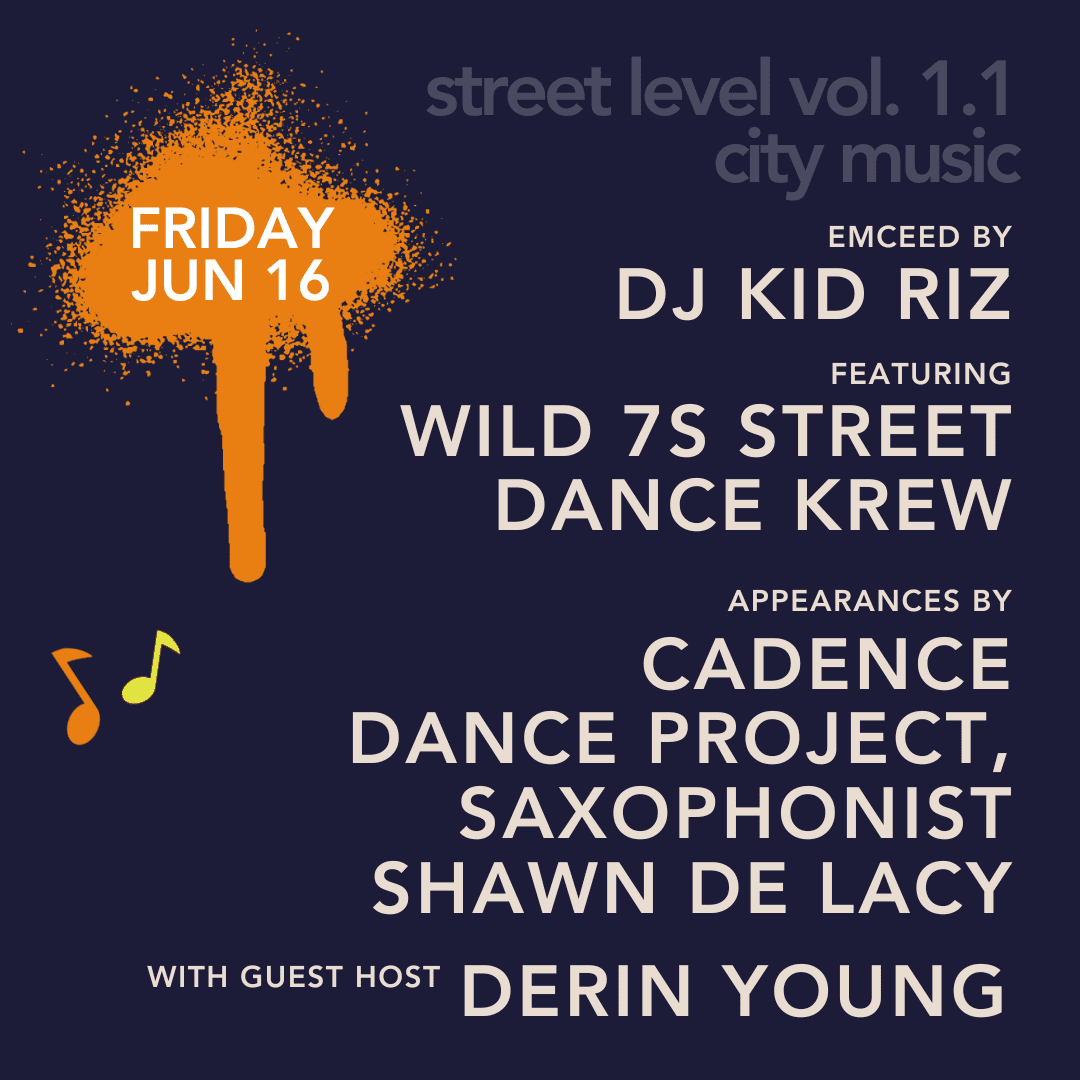 Street Level Vol. 1.1 City Music
City Music has always connected its inhabitants—helping diverse groups combine their cultures, peacefully. We celebrate the Music of The City with its beats, blends, references, and textures. We grew up listening to congas in the park and grooving to what was being played on the decks—afro-beat, hip-hop, house music, jazz, soul, samba, salsa, and the list goes on. Join us to celebrate our cultural community through the joy of music and "the dance." Vol. 1: City Music will be emceed by DJ Kid Riz featuring Wild 7s Street Dance Krew with guest host, Derin Young and appearances by Cadence Dance Project, Saxophonist Shawn De Lacy, and YOU! Grab a drink at the bar or a bite to eat from Mak Mak Organic's Asian street food menu. See you there!
DJ Kid Riz (Rizaldy Cruz), a local Oceanside DJ, gained experience in art and culture as a "B-Boy" or break dancer. Kid Riz is the owner of Skoolyard Records (vinyl) in Oceanside, CA, and the founder of the Skoolyard Movement – an underground community supporting hip-hop artists and street culture.
@the_skoolyard
Cadence Dance Project is an environment where dance and community are "harmoniously blended together" in a dance studio that services children 18 months-18 years of age. CADENCE offers a variety of dance styles that include: Ballet, Tap, Jazz, Contemporary, Hip Hop, Musical Theatre, and more--a genuine gem in the heart of Oceanside.
@cadencedanceproject | cadencedanceproject.com
Shawn De Lacy has been making music since childhood from musical influences within contemporary and smooth jazz. As a wind instrumentalist, Shawn primarily plays saxophone, but also has a rare talent with the Irish whistle and incorporates the use of electronic and digital instrumentation into his performances which creates a unique experience for audiences.
The Wild7s is a Dance Krew created by the street dance community of Oceanside CA, highlighting an overall lifestyle expressed through movement and art.Wild7s Freestyle Krew specializes in street dance styles such as Popping, Locking, House dance, Whacking, Hip-hop, Krump, and Breaking.
@wildnation_7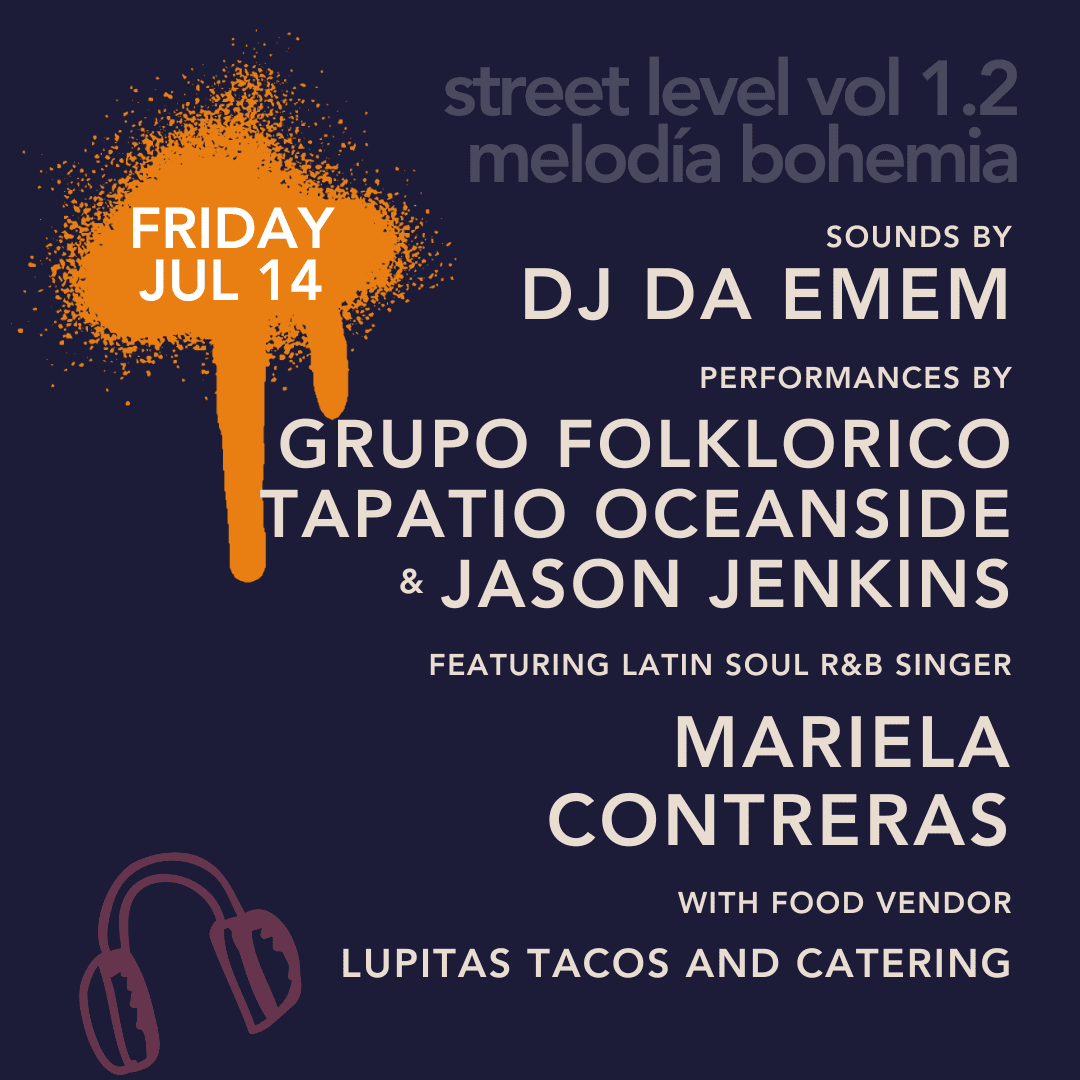 Street Level Vol. 1.2 Melodía Bohemia
Rhythm, syncopation, the colors of universal tribal dance, and the call and response of percussion and voice. These are the elements of Latin jazz expressing ancient and organic music fused with cultures from the Americas that speak of unifying histories. Learn and share with our featured performers and find the beat of your drum. Join us to celebrate the cultural community through the joy of music and dance.
Mariela Contreras, a bi-lingual vocalist, has opened up for acts such as Ely Guerra, Edith Marquez, Rosana, Romeo Santos, Mana, and Selena Gomez. In 2019, Mariela worked alongside producer Jesse Audelo to release an EP that demonstrates her vocal range and eclectic influences from the Latin Soul & R&B communities.

@musicmariela | marielacontreras.com
Jason Jenkins, an acclaimed guitarist, is a uniquely talented musician whose passionate sounds and dazzling technique have been astounding audiences across the nation for more than ten years. His fiery solo style combines flamenco with rock, classical, jazz, and Latin with stunning technical command.
Ballet Folklorico Tapatio Oceanside Grupo Folklorico Tapatio's Director, Luis Oceguera, describes Ballet Folklorico as a popular form of cultural expression representing both sides of the Mexican and United States border. Teachers utilize Ballet Folklorico and traditional dance to exemplify the folk dances of Mexico.
Alexandro Muñoz (DJ DA EMEM) is a DJ / Producer whose style is characterized as house and techno music – featuring energetic build-ups as well as incorporating disco and hip hop influences. Alex's DJ sets are known to be eclectic and versatile as he experiments with grooves and rhythms to create a vibe.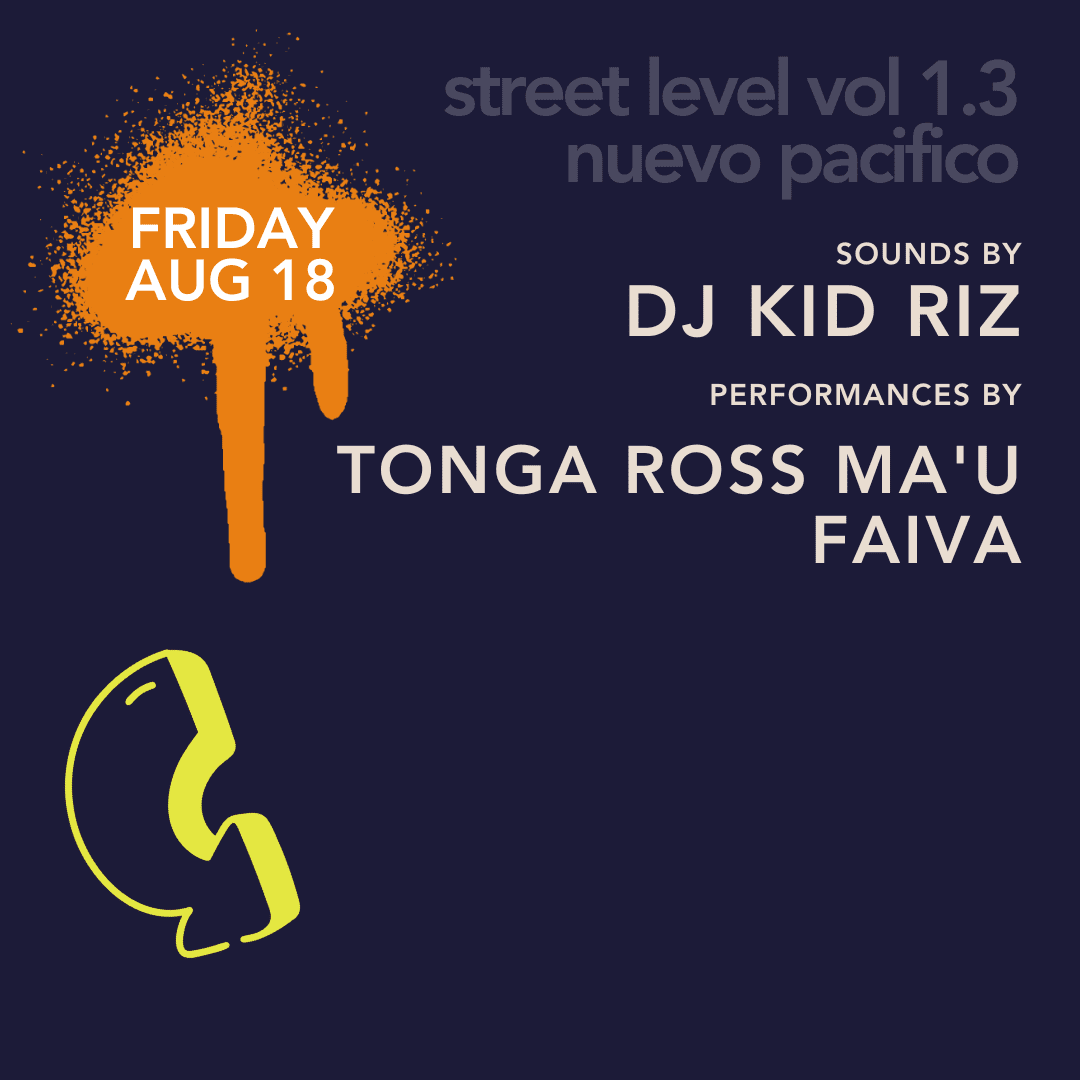 Street Level Vol. 1.3 Nuevo Pacifico
The crowds were struck with awe by the majesty of the ocean and the people of the islands in Street Level Vol. 1.3 Nuevo Pacifico. Featuring O'side's DJ Kid Riz, talented Samoan band trio, FAIVA, accompanied by amazing dancers, and headlined by the incredible versatile musician, Tonga Ross Ma'u. A taste of the islands were enjoyed through delicious Hawaiian Cuisine from food vendor Da Kine's.
DJ Kid Riz | @the_sckoolyard
Oceanside's DJ Kid Riz (Rizaldy Cruz) began as a break dancer, later transforming into a hip-hop DJ. Influenced by DJ Charlie Rock and street dancers like Crazy Legs, he owns Skoolyard Records and founded the Skoolyard Movement supporting hip-hop artists and street culture since 1999. Hear him on the turntables at Street Level.
FAIVA | @faivamusic | faivamusic.com | Watch FAIVA on YouTube
FAIVA is a talented trio uniting a crooning balladeer, falsetto RnB vocalist, and soulful guitarist. Their music embodies their Samoan heritage, infused with rich cultural traditions, and seeks to inspire unity among listeners on the terrace stage.
Tonga Ross Ma'u | @mynameistonga | tongarossmau.com | Watch Tonga on YouTube | Listen to Tonga on Spotify
Tonga Ross-Ma'u, a versatile musician from San Diego, is a music producer with a unique blend of soul, jazz, and electronic music in his releases. He's also an educator, teaching students privately, creating online tutorials, and collaborating with music non-profit programs.