sun26feb2:00 pm4:00 pmFree Panel Discussion | The Herstory of Black Women in the American West: Renowned Historian, Experts, and DescendantsAT OMA2:00 pm - 4:00 pm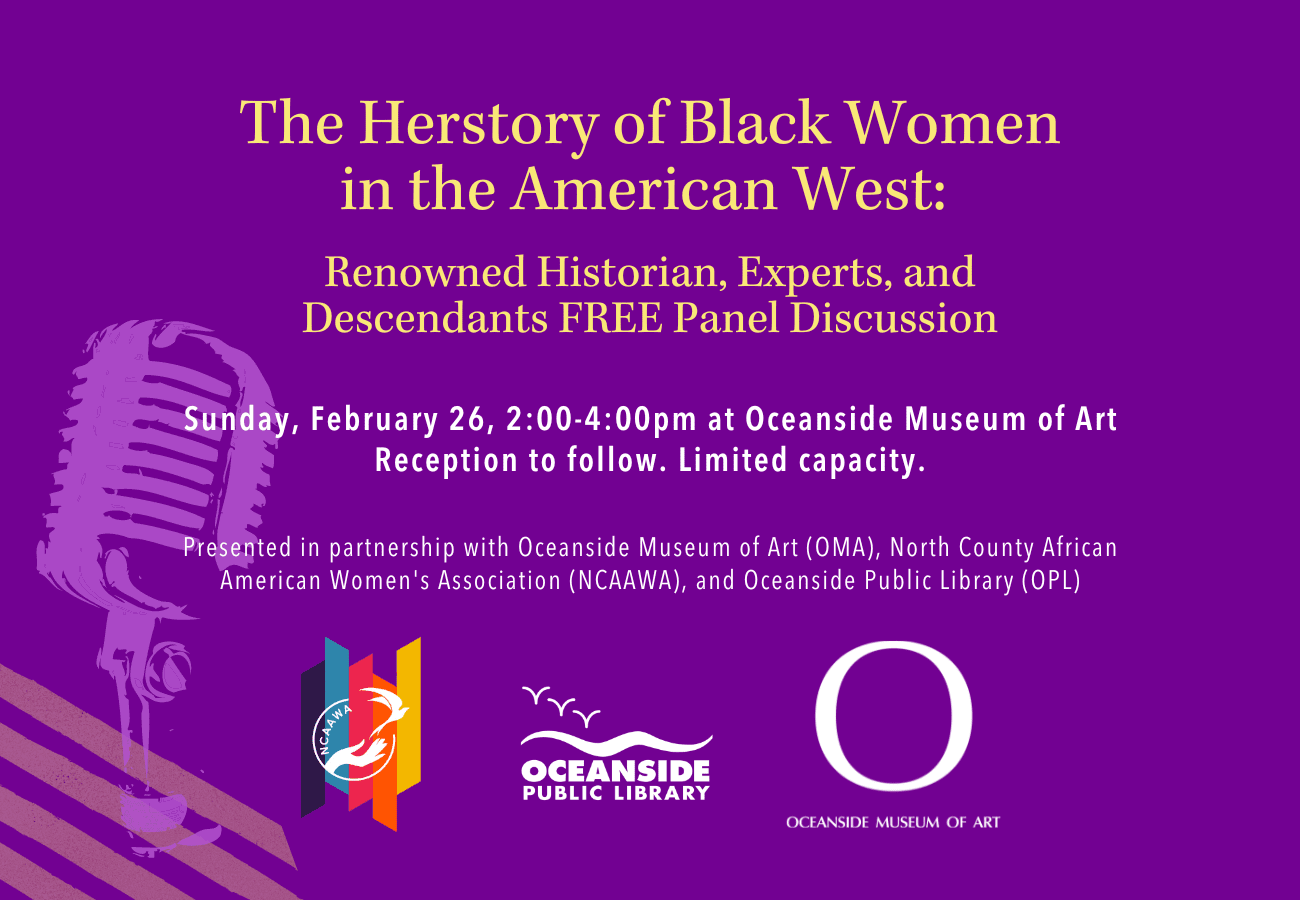 Time

(Sunday) 2:00 pm - 4:00 pm
Location

Oceanside Museum Of Art

704 Pier View Way
Event Details

Renowned historians, descendants, and experts in the field will explore the struggles, triumphs, and significance of the brave African American women who made a life on the frontier. The free in-person panel discussion will include themes in the lives of prominent figures like Biddy Mason, who became one of the first citizens and landowners in Los Angeles in the 1850s and 1860s.

Speakers in the panel include; Dr. Kevin Waite (Associate Professor- Modern American History, Durham University), Angela Wilkinson (Biddy Mason descendant), Shawntai Mitchum (Ph.D. student with a background in Black Feminism, University of Southern California), Jackie Broxton (Executive Director of the Biddy Mason Charitable Foundation), and Moderation by Edwina Williams (Professor in the Department of Sociology, MiraCosta College).

SOLD OUT

JOIN THE WAITLIST

---
---
Free panel discussion. Limited capacity. RSVP to save your spot.
---
Panelists selected by NCAAWA and OPL.
Moderator Angela Wilkinson
Angela Wilkinson was born Angela Rona in Martinez, Ca to Herbert Israel And Ruby Lean Rona, and was the second oldest of 8 children, 5 Girls, and 3 Boys. Angela has 2 Children, 1 Boy and 1 Girl, and 2 Grandchildren a Boy and a Girl one 14 yrs old and one 15 yrs old. Angela's father passed away 5 yrs ago in June 2017. Her 3rd great-grandmother was Hannah (Dorn) Smith–Embers.
Ancestry of Angela Wilkinson
Hannah Dorn-Smith was born into Slavery in 1822, and that little was about Hannah only that she grew up in the household of Rebecca Dorn whose family of Plantation owners had dozen of slaves who tended to crops and the needs of the household.Amongst the slaves owned by Rebecca Dorn's - Smith family was Hannah and Biddy Mason. As far as we know, Hannah was purchased by her brother and given to Rebecca when Rebecca married Robert May Smith (it is said that Robert Smith's Family were poor farmers) so when Robert Smith Married Rebecca Dorn, he acquired her wealth. (Rebecca's Family gave Hannah as a gift to help Rebecca with her needs of the household and Rebecca due to Rebecca being sickly. Hannah and Biddy became the closest of Friends throughout their lives, and It was said that Biddy was long time owned by Robert Smith. Hannah like Biddy Mason, became an expert horsewoman and midwife and responded to all calls of the day or night in addition to all and to the Mormons who settle at the Mormon Fort Colony settlement in California in 1851, which was located where the San Bernardino Court House is Today. Hannah married a slave by the name of Tobe Embers (which Tobe Embers had a brother by the name of Grief Embers), (the Embers brothers from which I was told was the property of Bishop William Crosby at that time). Hannah and Tobe had 8 Children from ages of newborn to 17 yrs old and one grandchild age 2 yrs old. Amongst her children, one married a Man born into slavery in 1848 by the name of Israel Beal in December of 1870. Israel Beal played a significant role in the development of the City of Redlands and the building of the original Big Bear Dam in the San Bernardino Mountains. The Daughter was Martha Embers Beal, my 2nd great grandmother, who's granddaughter was Beatrice Isabel Beal - Crosby, My Father's (Herbert Israel Rona's Mother) my Grandmother. it was not known what happened to Hannah after she and Biddy attained their Freedom from Judge Bejamin Hayes of Los Angeles. We still to this day do not know where she is buried. It has been said by some that she might have moved from California. but this has not been confirmed.
Dr. Kevin Waite
Dr. Kevin Waite is an associate professor of history at Durham University (UK) and the author of West of Slavery: The Southern Dream of a Transcontinental Empire (UNC, 2021). West of Slavery won the 2022 Wiley-Silver Prize from The Center for Civil War Research and was a finalist for three other book awards: the Lincoln Prize, the SHEAR Manuscript Prize, and the Paul E. Lovejoy Prize from the Journal of Global Slavery. It was named one of the "11 books that shaped how we think about California," by Boom: A Journal of California and one of the "Five Best Books" ever written on the Civil War in the Far West by the Civil War Monitor. Kevin is currently writing a history of the life and times of Biddy Mason, a formerly enslaved woman who helped build Black Los Angeles. His articles have appeared in The Atlantic, National Geographic, The Los Angeles Times, HuffPost, Slate, The New Republic, and The Washington Post, among others.
Shawntae Mitchum
Shawntae Mitchum (she/her) is an Associate Faculty member in the Sociology Department at MiraCosta College, and Co-Creator/Coordinator of their very first campus-based Black Community Ally Training (BCAT). She is working on her Ph.D. in Sociology at the University of Southern California and her current research project is centered on the impact of the Summer 2020 racial uprisings on the experiences of Black higher education professionals who engage in Diversity, Equity, and Inclusion (DEI) work. After the completion of her Ph.D, she hopes to continue her teaching career while advancing racial justice in higher education through research, policy, and practice.
Shawntae grew up in Oceanside, California, and spent most of her younger days living on Camp Pendleton. Her father, Kevin Brown, is a United States Marine Corps Veteran who served over 20 years. She attributes her success in life to her parents, Kevin and Donine, and the many mentors she has at MiraCosta College who all pushed her to pursue academic excellence. As a first-generation college student, she has encountered many barriers to higher education that she hopes to one day eliminate for students who look like her and come from communities that are overlooked and underserved.
Jackie Broxton
Los Angeles native, Jackie Broxton serves as the President and CEO of the Biddy Mason Charitable Foundation. The Foundation created in 2013 provides services and support to both current and former foster youth in Los Angeles County. Educated locally in Los Angeles City Schools Jackie developed a love of history and African American History specifically in middle school. That love has grown over the years. Currently, Jackie is completing a series of six one-act plays on conversations between Biddy Mason and other early Los Angeles settlers. She is a 40-year member of First AME Church in Los Angeles where she has served in a variety of leadership positions. She has been recognized by the Black Faculty and Staff of Los Angeles Community College Association for her leadership within the foster care community. She is also a Community Outreach Director for the Long Journey to Freedom an international research project examining the life of Biddy Mason. Additionally, she is a founding member of 3FN, Faith Foster Families Network, an inner faith collaborative seeking to provide support to the foster youth and families impacted by the foster care system. She is the mother of one daughter, Felicia Martin Hill, the Director of Media and Promotions for Essence Magazine and the grandmother to 2 boys, Isaiah age 20, the lead character, Jace Carson in the Apple TV Series, Swagger, and Christian, age 13 a budding writer.
---