legacy: 25 Years of art and community
the early years: on view september 10, 2022–January 29, 2023
the recent years: on view october 1, 2022–february 19, 2023
Curated By Danielle Deery
Over the past 25 years OMA has presented over 300 diverse and engaging exhibitions. Legacy: 25 Years of Art and Community is a survey of 71 exhibitions and features 130 works of art by 112 different artists that speaks to the extensive variety of artistic expressions the museum has presented over the past quarter century. From California Impressionism as seen in Masterpieces of San Diego Painting: Fifty Works from Fifty Years, 1900-1950 (2008) to Surrealism found in San Diego Surreal (2019), each one of OMA's exhibitions reflects its mission to explore the art and stories of Southern California artists. This exhibition is organized into two galleries: the Bob and Estelle Gleason Gallery features artwork mostly from exhibitions between 1997 and 2011, while the Rusty and Bebe Grosse Gallery presents artwork from exhibitions between 2012 and 2022.
Building a legacy takes planning, commitment, and passion to achieve something that will make an impact and withstand the test of time. This type of journey requires participation and dedication from hundreds of stakeholders. In the case of Oceanside Museum of Art (OMA) this involves artists, collectors, curators, volunteers, patrons, and staff. OMA has built a legacy, with the help of the community, through its engaging exhibitions and programs that provide meaningful connections to art and creativity.
The first eleven years at OMA saw a steady program of five exhibitions per year and a broad variety of lectures, films, and performances, all presented in the 5,000 square foot renovated 1934 Irving Gill City Hall building. When the museum expanded into the Fredrick Fisher designed Central Pavilion in 2008, the addition of 16,000 square feet and four new gallery spaces allowed OMA to produce approximately 15 art exhibitions a year. Every one of the more than 300 exhibitions featured at OMA over the past 25 years has been part of the museum's journey to becoming a major feature in the cultural topography of Southern California. This exhibition will create new narratives while remembering the seminal role OMA has played in the history of contemporary art in our region.
Exhibition Artists & Lenders
CATALOG
Purchase the fully illustrated, 72-page catalog for this exhibition in The Museum Store, $30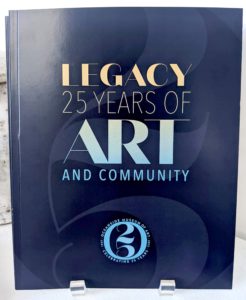 About the Curator
Danielle Deery is an independent curator and former Director of Exhibitions at Oceanside Museum of Art (OMA). She has curated 32 exhibitions at OMA including James Hubbell: In Search of Shadows (2013), Intersections: Charles Arnoldi (2013) and Tony DeLap: Selections from 50 Years (2013). While at OMA Deery served as Curator/Director of Marketing (2013-2014), Director of Exhibits and Marketing (2011-2013) and Assistant Director (2008-2011). Recently, Deery curated Endangered: Exploring California's Changing Ecosystems (2020) at Escondido Center for the Arts and Tangible Memories at La Jolla Historical Society (2019). Deery also has experience in the academic setting as Adjunct Assistant Art History Professor (2008-2014) and Interim Gallery Director (2008) at Fullerton College and Adjunct Assistant Professor of Museum Studies at Irvine Valley College (2013). She lives in North County San Diego, teaches art to kids in her home Rainbow Art Studio, serves as a board member for the San Diego Museum Council and writes a Blog for the organization called Museum Fun with my Kids. Deery received her BA from Hobart and William Smith College and her MFA from California State University, Fullerton.
Title Sponsors
Clay and Paula Alexander
Gisela Hill
Judy La Bounty and the Estate of Hugh La Bounty
Seth Sprague Educational and Charitable Foundation

Platinum Sponsors
Deena and Ken Altman

Gold Sponsors
Sandra Chanis and John H. Cadman
Robin J. Lipman and Miro Stano
Jerry Harder and Colleen O'Harra, Esq.
Ann and Bruce Mortland
Visit Oceanside

Silver Sponsors
Helen Frey
Robin Douglas and Jim Mullady
Regina Wilson
Terri Peterson Zimdars
---
Artwork pictured at the top of the page, left to right: Ellamarie Woolley, Summer (detail); James Hubbell, In the Beginning (detail); Jean Wells, Don't Lose Your Marbles (detail); Robin Bright, McGaffney (detail).