gail roberts: color field
july 30–november 27, 2022
"In this series, I am painting everything that blooms within the boundaries of our property—flowers, weeds, vegetables, fruit trees, succulents, etc. Our garden is a profusion of imported and native plants creating an artificial, albeit bountiful, ecosystem and microcosm of the world. Six of the seven continents are represented in the garden with many plants native to North, Central, and South America, Europe, Africa, China, Middle East, and Australia. Whether large or small, widely popular or undervalued, drought-tolerant or water guzzlers, indigenous or alien, invasive or fragile, edible or toxic—all are given an equal platform in this 'documentary on democracy'. The biodiversity in vegetation is the point of departure. The colors, shapes, and sizes of many of the flowers steal attention from others. But I believe that the subtlety of the underrepresented and less noticeable blossoms is an important contribution to the overall display. I am also an avid gatherer/collector of a variety of organic materials and correlating with this project is a collection of almost 250 dried flowers.
There are now over 130 paintings of singular flowers in the Color Field series, all the same size (20" x 24"), and completed over a five year period. Color Field refers to the visible color range in nature and the paintings are ordered by hue and exhibited as one continuous spectrum. Stepping outside my door, the natural environment has been a guiding and humbling springboard for my studio practice as a painter.
As the project developed, I researched each flower's botanical history, cultivation, and natural habitat. Some of the flowers have ancient origins with fossilized specimens dating back 80 million years. Others are hybrids from as recent as the 1970's. Several species are edible and frequently used in teas, soups, salads, bread, and flavorings. However, numerous plants are quite toxic and sometimes deliberately ingested to induce harmful and/or hallucinatory effects. Many have commercial value in dyes, perfumes, and lotions. Various plants have antibiotic properties and have been used for medicinal purposes and folk remedies to treat a wide range of physical ailments. Some are considered noxious weeds and invasive when they have been introduced outside their natural habitat. Only a few plants are protected in their native origins.
The process of each painting begins with an intuitive ground of poured paint forming unpredictable and chance occurrences as the paint dries. The painted image of the flower is superimposed, and through close observation, the perfection as well as the flaws and irregularities of each flower are revealed. I am attempting to bring order into focus, simultaneously knowing that chaos is nature's domain.
I intend to convey my sense of wonder by revealing dramatic distinctions as well as nuanced and unassuming variations in the myriad of blossoms. A further objective is to reinforce the significance of protecting nature's intricacies as accelerated erosion of the diversity of plant species and natural habitats threaten the future health and survival of our planet."
—Artist Gail Roberts
MUSEUM STORE
Purchase framed flowers by Gail Roberts in OMA's Museum Store, $25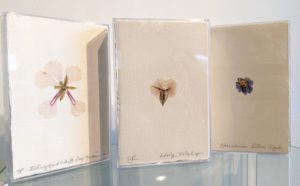 LEARN MORE
If you would like to learn more about the artwork, including if the artist has work available to purchase, please email exhibitions@oma-online.org.
---
Artwork pictured at the top of the page: Gail Roberts, Color Field Series (detail), 2018-2022. Installed at Quint Gallery, 2021. Photo by Lile Kvantaliani. Foreground: Queen Elizabeth Rose from the collection of Patricia Rutledge. Each painting: Oil and acrylic on canvas, 20" x 24".